The Vancouver Canucks finished last in the North Division, a brutal turnaround after their second-round playoff run in last year's bubble postseason. Many believed it would lead to substantial changes in the organization, but it appears as though they'll give it another crack with the same management and coaching group. General manager Jim Benning was retained and now head coach Travis Green has signed a multi-year extension with the team. Benning released a statement:
We are excited to have Travis Green continue to lead the Canucks as head coach and move forward from a challenging year to focus on future seasons. Our plan has always been to draft and develop a young core and surround them with supporting players who can help us win. We have some of the best young players in the NHL and I believe Travis is the right coach to help us achieve team success and a return to the playoffs.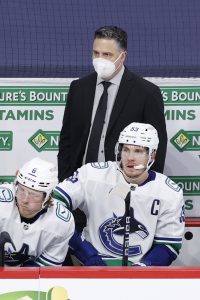 Now, Green was certainly not the reason for the disastrous season and many players spoke up in favor of bringing him back at the Canucks' end-of-season media availability. Captain Bo Horvat said the team would "love to see him back" and explained that Green had been "awesome" toward them. There were also many who speculated that Green would not be unemployed for long if the Canucks let him go, especially with the number of other vacancies around the league.
Still, it is certainly surprising that no one is losing their job after a season like the Canucks just endured. While they did have a brutal schedule, cut up with a late-season COVID outbreak, they finished 20-26-3, ranked 25th in goals for and 24th in goals against. The team's powerplay put them 25th, their penalty killing 18th, and save percentage ranked them 20th in the league. By almost every metric, the Canucks were one of the worst teams in the league.
In fact, they have been for a while now. Even with the team's Cinderella-like run last season, Green's overall regular season record with the Canucks sits at 122-129-31 and he has reached the playoffs just once in four years. If he and Benning are both coming back, it's obvious that the real organizational change will have to come at the roster level (though perhaps that's really the only place to effect real short-term change in any situation.).
With so much cap already tied up and new contracts for Elias Pettersson and Quinn Hughes to come, making that tangible change will be difficult. The only notable unrestricted free agents the team has are Brandon Sutter and Alexander Edler, who both expressed a desire to return to Vancouver earlier today. Most of the roster is still signed for the 2021-22 season, with more than $66.5MM already committed. Green is returning, but it may be difficult to turn things around in Vancouver right away.
Photo courtesy of USA Today Sports Images