Tyler Bertuzzi's season will end with just nine games played. The Detroit Red Wings forward underwent successful back surgery on April 30 at the Hospital for Special Surgery in New York and is expected to make a full recovery. Bertuzzi should be ready for the start of the 2021-22 season.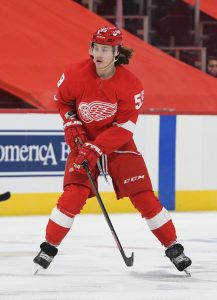 The 26-year-old forward last played on January 30, scoring his fifth goal of the season in the first nine games. He looked like he was well on his way to a third consecutive 20-goal season, but things quickly went off the rails. He was listed out with an upper-body injury for most of the season and even back in April, the team was clear the focus was on the 2021-22 campaign.
Now Bertuzzi faces a long rehab, but also a summer of negotiation. After receiving a one-year, $3.5MM contract through arbitration last offseason, he is scheduled to become a restricted free agent again and for the final time. An arbitration award this summer would take him right to unrestricted free agency in 2022, so the two sides must decide if a multi-year deal can be reached.
Now with the feisty forward coming off a back injury, there's good reason for the Red Wings to be hesitant, but perhaps that gives them an opportunity to lock him in at a reduced price. He's a very useful piece when healthy, though Detroit GM Steve Yzerman does seem committed to a younger group moving forward. Anthony Mantha, one of the team's other former core pieces, was dealt to the Washington Capitals at the deadline, meaning no player in the organization is signed to a one-way contract past the 2022-23 season.
Bertuzzi is one of 13 pending RFAs and one of 30 free agents of any kind, meaning Detroit can completely overhaul the depth chart if Yzerman sees fit. Right now, all the young forward can control is his rehab process and getting to full strength by the start of next season.
Photo courtesy of USA Today Sports Images