Sunday: TSN's Pierre LeBrun reports that the Panthers have indeed signed Gusev to a contract. It will be a one-year deal for $1MM.
"Nikita is a highly skilled and creative forward who plays the game with great speed and playmaking ability," said Florida general manager Bill Zito. "He has proven himself to be a tremendous offensive talent throughout his career. We are thrilled for Nikita to join the Panthers and look forward to what he can add to our team."
Saturday: After terminating the end of his contract with the New Jersey Devils, Nikita Gusev is now an unrestricted free agent and able to sign with any team in the league. As long as he signs before Monday's deadline, he will be eligible to take part in the postseason. That makes it seem likely that Gusev could be a deadline addition for a contender, and tonight Chris Johnston of Sportsnet reported on Hockey Night In Canada that the Florida Panthers are the frontrunner to sign the winger.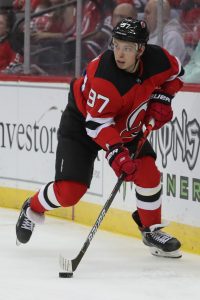 Gusev, 28, registered just five points in 20 games this season for the Devils after a strong rookie campaign in 2019-20, and ended up scratched several times near the end of his time in New Jersey. While he worked his way out of Lindy Ruff's good graces, there's no doubting his offensive talent. Once considered among the best players outside of the NHL, Gusev recorded 82 points in 62 games during his final season in the KHL. Last season for the Devils he had 44 in 66 games, suggesting a bright future in North America.
As Corey Masisak of The Athletic points out on Twitter, Gusev and his family actually didn't return to Russia during the offseason—they stayed in Florida. While that obviously doesn't necessarily mean he'll sign with the Panthers, Gusev does seem like a strong fit for a team that is trying to get things back on track after a short blip. Florida has lost its last three games, dropping behind the Carolina Hurricanes and Tampa Bay Lightning in the Central Division standings. They acquired Brandon Montour earlier today to add depth on defense but could use another offensive weapon as well.
Gusev can sign for the league minimum, but the Panthers could actually pay more than that given how much cap room they have. Florida has plenty of wiggle room even without putting Aaron Ekblad on long-term injured reserve, which could be another option if they add more salary in the coming days.
Photo courtesy of USA Today Sports Images