The days leading up to the trade deadline have, as usual, produced some notable trades.  As those were the biggest stories around the league over the past seven days, let's take a look back at the biggest swaps over that span.
Islanders Strike First: With Anders Lee's injury being a season-ending one, he was able to be placed on LTIR to give the Islanders a chance to spend to add a replacement.  They did just that as GM Lou Lamoriello once again turned to his former team in New Jersey, acquiring Kyle Palmieri and Travis Zajac from the Devils in exchange for a 2021 first-round pick, a conditional 2022 fourth-rounder, plus two minor leaguers to match contracts.  New Jersey retained half of Palmieri and Zajac's contracts to facilitate the move.  Palmieri gives New York a top-six winger to take Lee's spot while Zajac will give them some more skill in the bottom six and waived his no-move clause to join the Isles after declining to do so a year ago.
Colorado Gets A Goalie: For the second time this season, Avalanche GM Joe Sakic felt it was necessary to trade for a goalie.  This time, he brought in Devan Dubnyk from San Jose in exchange for defenseman Greg Pateryn and a 2021 fifth-round pick.  There was no retention in this swap but Pateryn's presence in the deal effectively offset the salary side of the ledger.  Dubnyk is having a tough season but still represents an upgrade on Jonas Johansson and Hunter Miska who were filling in for Pavel Francouz who has missed the entire season due to a lower-body injury and has been ruled out through the end of the regular season.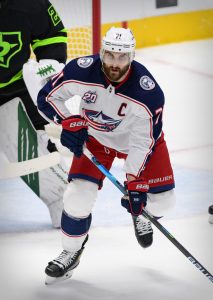 Foligno To Toronto: Maple Leafs GM Kyle Dubas didn't hide that his desire was to add a key rental forward and he did just that, acquiring Nick Foligno from Columbus (plus Stefan Noesen from San Jose) in a three-team swap.  The Sharks were involved in the deal to retain extra money; with them retaining 25% and the Blue Jackets 50%, Toronto was able to add the veteran winger without sending anyone out though it cost them a first rounder and a pair of fourths to do so.  Thanks to the addition of Riley Nash to create an expanded LTIR pool, they were able to get enough flexibility to do this move and still be able to activate Frederik Andersen off LTIR when he's ready to come back and get a strong complementary piece in Foligno.
Montour To Florida: The Panthers were on the lookout for a defenseman to try to fill some of the void from Aaron Ekblad's season-ending injury and picked up an intriguing rearguard in Brandon Montour.  Montour didn't fit in well with Buffalo but now will have an opportunity to join a surprising contender to rebuild some value heading into free agency.  With Florida not needing the Sabres to retain salary, they only had to part with a 2021 third-round pick to get him.  Considering they already had cap room and cleared out Brett Connolly's contract to Chicago earlier in the week, they have plenty of cap space to try to add another piece or two by Monday's deadline.
Savard To Tampa Bay: The Lightning weren't expected to do much of anything by the deadline but instead, they managed to land one of the top rentals on the market in Blue Jackets defenseman David Savard.  The deal involved double retention again with Columbus holding 50% and Detroit another 25% which made the price tag – picks in the first, third, and fourth round – a bit higher but Tampa Bay now adds a capable top-four defender to an already strong group.  Considering they're expected to get Nikita Kucherov back for the playoffs as well, they have to be viewed as a strong contender to try to repeat as Stanley Cup champions.
Photo courtesy of USA Today Sports Images.