It was somewhat surprising when Patrick Marleau signed a new one-year, $700K contract with the San Jose Sharks last October. Not because he had lost any love for the franchise that he spent two decades leading, but because the Sharks didn't appear to be in a position to give him a chance at what he had always lacked–the Stanley Cup.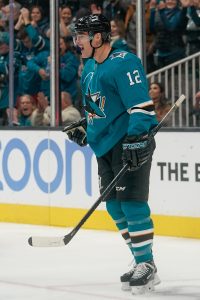 Marleau has gone chasing a ring before, signing a three-year deal with the upstart Toronto Maple Leafs in 2017 and then embracing a trade to the Pittsburgh Penguins at last year's trade deadline. Returning to San Jose, who had gone 29-36-5 in 2019-20 and were bringing back largely the same roster, seemed like he was giving up any chance at the Cup this season and instead focusing on breaking the all-time games played record with the franchise he knows best. Marleau now sits just 15 games behind Gordie Howe's 1,767 regular season contests, a record that for a long time seemed unbreakable.
But now, speaking with Kevin Kurz of The Athletic, Marleau explained that he would "seriously consider" another move to a contender if one were to approach the Sharks about him, noting that winning a Stanley Cup is still the goal. The 41-year-old doesn't actually have any trade protection in his contract, but would likely be part of the conversation with San Jose management about a deadline deal given his legacy status with the team.
Of course, Marleau's play has drastically declined, to the point where acquiring him may not necessarily be a good idea for a contender. He has just one goal and five points in 29 games this season, and though part of that is the struggling Sharks roster, part of it is a 41-year-old player trying to keep up. In four postseason games with the Penguins last season he failed to record a point, meaning that third-round pick Pittsburgh used to get him didn't have much return on investment. Hard to imagine a lot of clubs racing to do the same thing, especially given the added quarantine protocols and cap issues that are plaguing the NHL trade market.
Photo courtesy of USA Today Sports Images