The Anaheim Ducks lost again last night, adding just a single mark to the goals for column that they have struggled so much to fill this season. The team has just 33 goals in 17 games, the fewest on a per-game basis in the league and a historically low rate. They do have some offensive weapons pushing for a call-up but some wonder if the team should be selling off some expiring or aging assets to rebuild for the future. When you scroll over the Ducks' CapFriendly page looking for potential trade chips, one name might stick out above all the rest: Ryan Getzlaf.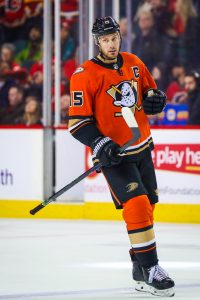 The 35-year-old center is on the last season of the eight-year, $66MM contract he signed in 2013 and is scheduled to become an unrestricted free agent in the summer. That could potentially make him an attractive piece on the market, especially since he isn't actually earning the $8.5MM cap hit that his contract carries. Getzlaf is owed just $6MM for the 2020-21 season, and half of that was in a signing bonus. That means he would come at a considerable discount for a cash-strapped contender, though obviously, the cap structure would need to work.
Hold that thought. Getzlaf also has a full no-movement clause in his contract and Frank Seravalli of TSN reported last night on Insider Trading that the Ducks have no plans to ask him to waive it at this time. The only way the veteran forward would be on the move is if he asked for a trade to go chase a Stanley Cup. That chase, which is so alluring to many of the league's greatest players as they get to the twilight of their career, may not be so for Getzlaf, who already won a championship in 2007 with the Ducks.
There's also the fact that he's not the same Hart Trophy-level star that he once was, meaning the return wouldn't likely be a big one. Getzlaf has just six points through 15 games, including zero even-strength goals. His ice time is down and he's now just playing a support and leadership role as the team transitions to the next wave of talent.
As of now, it doesn't appear as though he'll be on the block. But Seravalli points out that could change if he "raises his hand" and tells the Ducks he wants to chase another ring.
Photo courtesy of USA Today Sports Images