The St. Louis Blues will start a six-game road trip tomorrow night against the San Jose Sharks and at some point during it, will likely get a big boost. Vladimir Tarasenko was a full participant in practice today and afterward, head coach Craig Berube told reporters including Jeremy Rutherford of The Athletic that there is a "good chance" the sniper returns at some point during the trip.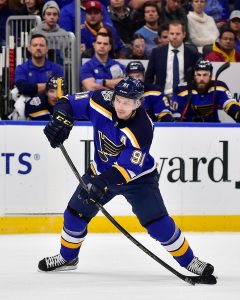 Tarasenko last played in an NHL game during the postseason bubble but hasn't suited up for a regular season game since October 24, 2019. He was limited to just 10 games last season, the first injury-riddled campaign of his career. The winger had played in at least 76 games in each of the five seasons previous, scoring at least 33 goals in each of them. That kind of offensive consistency is hard to come by, meaning his return should be an incredible addition for a Blues team looking to go on a deep playoff run.
When it was revealed that Tarasenko was likely to return this season, the question became how the Blues would fit him in under the salary cap. That question is at least partially answered now that Alex Steen and Carl Gunnarsson are out for the year, giving the team quite a bit more long-term injured reserve space. The Blues will still have to make a few transactions, but Tarasenko doesn't push them over the top as much as once believed.
His return comes at a perfect time for the 2019 Cup champions, as they're actually mired in a three-game losing streak and have scored just one goal in their past two. While they still sit second in the West Division standings, that's in part due to playing 20 games already–only the Anaheim Ducks have played that many.
Photo courtesy of USA Today Sports Images