The Montreal Canadiens have made a change behind the bench, relieving head coach Claude Julien and associate coach Kirk Muller of their duties. Dominique Ducharme, who had been serving as an assistant, will serve as interim head coach, while Alexandre Burrows has joined the coaching staff. Luke Richardson and Stephane Waite will retain their respective duties with the staff.
GM Marc Bergevin released a statement:
I would like to sincerely thank Claude and Kirk for their contributions to our team over the past five years during which we worked together. I have great respect for these two men whom I hold in high regard. In Dominique Ducharme, we see a very promising coach who will bring new life and new energy to our group. We feel that our team can achieve high standards and the time had come for a change.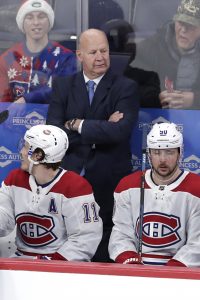 Earlier in the season, the Canadiens appeared ready to challenge for the top spot in the North Division, with a high-powered offense led by newcomers Tyler Toffoli and Josh Anderson. Unfortunately, some of that offense has dried up and the team has come apart at the seams, losing back-to-back games against the Ottawa Senators. Those two losses certainly punctuate a drop in play, but it was obvious for some time that the Canadiens weren't as good as their early-season results.
They had the Vancouver Canucks number especially, but against non-Vancouver teams, the Canadiens had just a 5-5-3 record on the year. Recently, the coach had made drastic moves to try and spark the team like scratching Tomas Tatar, the team's 2019-20 scoring leader. When that didn't work, the hammer had to come down on someone and it turned out to be Julien.
It's not like Ducharme has no experience running a bench though. The interim coach was an incredibly successful junior coach, winning the CHL Coach of the Year award in 2013. He has been the head coach of Canada's World Junior team twice, winning gold in 2018. This will be, however, his first time as a head coach in the NHL. Renaud Lavoie of TVA Sports reports that there is not another change expected before the end of the season.
For Julien, the term "relieved of duties" was used because he has one more year on his contract at $5MM, according to Pierre LeBrun of The Athletic. That means any team hoping to hire Julien will need to approach the Canadiens and negotiate a deal to pay at least some of that remaining salary. Otherwise, Montreal will pay him to stay at home for the next year.
If the old hockey adage of "show me a good coach and I'll show you a good goalie" is true, perhaps it is the opposite that has cost Julien his job. Although Carey Price has looked rejuvenated at times this season, the simple fact is that he's not stopping the puck enough for the Canadiens to contend each night. Price has just an .893 save percentage on the season and though some of that can be attributed to the play in front of him, his numbers have been trending down for several seasons now—not to mention Jake Allen's .932 behind the same team. If Ducharme is to turn the Canadiens around this season (or in any of the next five), that performance has to improve.
Photo courtesy of USA Today Sports Images