In a normal season, even restricted free agents that miss all of training camp have plenty of time to sign. To be eligible to play, they must have a contract signed and filed with the league by December 1, nearly two months after a normal NHL season begins. Two years ago we saw a negotiation go down to the witching hour between the Toronto Maple Leafs and William Nylander, with the young forward eventually signing a six-year, $45MM deal just before the deadline. Nylander was in the lineup by December 6, though he never seemed to get comfortable and ended up having arguably his worst season as a professional.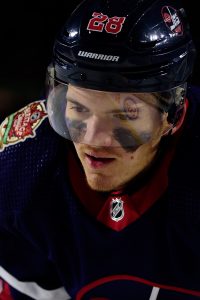 With a few notable restricted free agents still unsigned, now less than a week before the season begins, it's important to note that they don't have that two-month in-season window anymore. In fact, it's less than a month between the start of the regular season and the RFA signing deadline of February 11 in this unique, shortened campaign.
That means for Jack Roslovic, Jesper Bratt, and, most importantly, Mathew Barzal, the clock is ticking. If they are not signed by that date, they cannot play this season at all.
In Roslovic's case, the negotiations have led to a formal trade request. That doesn't mean the only way he plays this season is with another team, but it certainly should inspire confidence that he'll be inking a deal with the Winnipeg Jets anytime soon. The 23-year-old forward hasn't gotten a ton of playing time in Winnipeg's deep forward group but did generate 12 goals and 29 points last season in 71 games. Selected 25th overall in 2015 he obviously believes a change of scenery would be beneficial to his career, and it's hard to argue that at this point given where he'll still slot in on the Jets depth chart. If Winnipeg doesn't give in or doesn't receive an acceptable offer though, that signing deadline will put a lot of pressure on Roslovic to take whatever deal he can get just so he doesn't spend an entire year away from NHL ice.
For Bratt, it doesn't seem as contentious, but Elliotte Friedman of Sportsnet reported recently that the New Jersey Devils forward is still in Sweden and there is a "bit of a gap" between the two sides. New Jersey just spent another $2MM on Sami Vatanen in free agency and, like in all of these situations, every day that passes gives another player a chance to show what they can do at camp. Perhaps playing in the SHL would be an option for the 22-year-old Bratt, but after a 32-point season in 2019-20 you would think he'd want to be part of what they're building in New Jersey. He has just over a month to get something done if he wants to be there this season.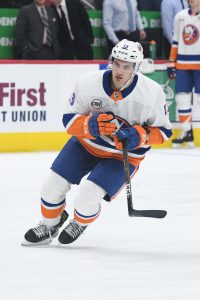 There are technically some other restricted free agents, including names like Henrik Borgstrom and Aleksi Saarela of the Florida Panthers, but they are already playing overseas and don't have the kind of track record of the three mentioned.
That brings us to Barzal, who is one of the most fascinating stories of training camp so far. He was listed on the New York Islanders camp roster, but hasn't appeared on the ice as the negotiations continue. Like any other situation that includes GM Lou Lamoriello, there is little information coming out, but Friedman discussed it today on the radio, explaining that this situation is not like some of the other high profile RFAs that have been in the news lately:
I don't look at this situation here and see—like we know obviously there is a issue with [Pierre-Luc] Dubois in Columbus and we know there is an issue with [Patrik] Laine in Winnipeg, I don't get any sense there is an issue with Barzal and the Islanders.
That doesn't mean they have forever though, as not only has Barzal now missed a chunk of the already-shortened training camp, he'll need a new deal before that February 11 deadline if he wants to play at all. For the Islanders, who have their eyes fixed squarely on a playoff spot in the tough East Division, missing Barzal even for a single game would have grave repercussions. The heartbeat of their offensive attack, the 23-year-old has 207 points through his first 234 NHL games and is expecting quite the salary bump on any contract.
The deadline isn't two months into the season anymore. It's just about a dozen games.
Photo courtesy of USA Today Sports Images