The biggest restricted free agent is unsigned no longer as the Islanders have agreed to terms on a three-year deal with center Mathew Barzal, reports David Pagnotta of The Fourth Period (Twitter link).  Financial terms of the contract were not disclosed but Newsday's Andrew Gross adds (Twitter link) that the AAV should be $7MM which ties him with Anders Lee as their highest-paid player.  Darren Dreger adds (via Twitter) that the breakdown of the deal is as follows:
2020-21: $4MM ($3MM salary, $1MM signing bonus)
2021-22: $7MM
2022-23: $10MM
Under the terms of the CBA extension, the qualifying offer required is the lower of the final-year salary or 120% of the AAV.  In this case, 120% of the AAV is $8.4MM so that will represent his qualifier in the 2023 offseason.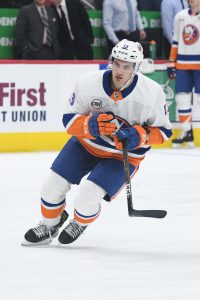 The 23-year-old burst onto the scene in 2017-18 and made an immediate impact, leading the team in scoring with 85 points (22-63-85) in 82 games.  While his production has tapered off a little bit since then, Barzal has still led the Isles in scoring the last two seasons and put up 19 goals and 41 assists in 69 games in 2019-20 before the pandemic hit.  He also had a strong showing offensively in New York's run to the Eastern Conference Final with five goals and a dozen helpers in 22 contests.
So why did it take so long for this to get done?  The salary cap, of course.  Even after moving Devon Toews to Colorado and defenseman Johnny Boychuk's career coming to an end (making him LTIR-eligible), GM Lou Lamoriello didn't have much in the way in salary cap flexibility.  Even in this marketplace and without arbitration eligibility, Barzal had a case to push for something similar to the eight-year, $80MM deal that Buffalo center Jack Eichel signed two years into his entry-level deal.  That's a price tag that they simply couldn't afford.
Going the short-term bridge route has been the expected outcome for quite a while to the point where it's a bit surprising that it took this long to complete although Dreger reports (Twitter link) that focus until recently had been on a six-year pact.  This approach will allow the Islanders to stay cap-compliant much easier and eventually complete a series of pending transactions that will involve contracts for wingers Matt Martin and Tom Kuhnhackl, defenseman Andy Greene, and goaltender Cory Schneider.  Meanwhile, from Barzal's point of view, the term will put him one year away from unrestricted free agency with a guaranteed raise of $1.4MM via the qualifying offer while he'll be arbitration-eligible as well.  That will give him a lot more leverage at that time as if he doesn't get the terms he's looking for, he can simply file for arbitration and position himself to hit the open market in 2024.
The deal currently puts New York roughly $3MM over the Upper Limit of the salary cap before taking Boychuk's eventual LTIR placement into consideration.  It would be beneficial for them to try to get into compliance without needing to put Boychuk on LTIR right away as that would help maximize their in-season spending flexibility.  To that end, it wouldn't be surprising to see the Isles continue to try to clear out a contract as they've been trying to do in recent days and if that doesn't happen, several of those underachieving veterans could be on waivers in the next couple of days to start another sequence of cap-related transactions.  Alternatively, they could sign some of the pending deals to get close to the Upper Limit, place Boychuk on LTIR to start the season, send some of their surplus roster down, and then announce Barzal's contract.  Clearly, there is still some cap management to come.
Photo courtesy of USA Today Sports Images.