2020 was certainly a unique year away from the rink.  However, it was also a year that featured several big trades and free agent signings, coaching changes, and much more.  We continue our look back at the top stories from around the game on a month-by-month basis.  Next up is August which saw the playoffs begin which featured some fireworks on the ice and on Twitter.
Firings: Following a quick exit in the bubble, the Panthers parted ways with long-time executive Dale Tallon.  He originally joined Florida in 2010 after being let go by Chicago but was suddenly pushed out of the GM chair in 2016 before re-assuming the position two years later.  While the team has made some big-name additions (including head coach Joel Quenneville and goalie Sergei Bobrovsky), they haven't had any sort of postseason success.  Florida made the playoffs three times since Tallon joined them and didn't win a series in any of them, continuing a long trend; the Panthers have only ever won a playoff series in just one year, back in 1996 when they made it to the Stanley Cup Final.
Meanwhile, the Capitals also decided to make a change after being ousted quite quickly, firing head coach Todd Reirden.  They were eliminated quite quickly at the hands of the Islanders in the first round, coincidentally coached by Washington's former bench boss in Barry Trotz.  Reirden spent two years as the bench boss for the Caps and while he had a good regular season record of 89-46-16, it didn't turn into success in the postseason.
Postseason Departures: While the opt-out deadline had technically passed, Bruins goaltender Tuukka Rask left the bubble for the remainder of the postseason to tend to what was later revealed to be a family emergency.  Jaroslav Halak assumed the starting role for the rest of their playoffs, one that lasted until the second round when they were eliminated by Tampa Bay.  Meanwhile, Canadiens head coach Claude Julien had to leave the bubble due to a medical emergency, one that resulted in the stenting of a coronary artery.  While the procedure went well, he returned home to recover with Kirk Muller serving as acting head coach for the rest of their playoff run.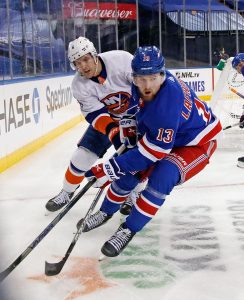 Rangers Lose, Then Win: The bad news for the Rangers is that they didn't make it past the Qualifying Round.  In fact, they were swept by Carolina and managed just four goals in the three-game series.  But there was a silver lining.  Their elimination made them one of the eight teams eligible to land the top pick as part of the NHL's draft lottery, one that required a second drawing.  Each squad had identical odds and it was New York that came out victorious, allowing them to select highly-touted winger Alexis Lafreniere with that selection.  As expected, Lafreniere made the opening night roster and has logged nearly 15 minutes per night in their first three games this season but is still awaiting his first NHL point.
Kapanen To Pittsburgh: It's abnormal that a notable trade is made during the playoffs but this was 2020 where things were anywhere but normal and the Penguins opted to make an early splash, acquiring Kasperi Kapanen from Toronto.  While the trade involved seven different pieces, the key elements of the return for the Maple Leafs was the 15th overall pick (used on Rodion Amirov) and prospect center Filip Hallander.  Kapanen was a first-round pick of the Penguins back in 2014 but was moved as part of the Phil Kessel trade one year later.  After putting up 80 points in total in his two full NHL campaigns, Pittsburgh is hoping he'll become a key top-six winger while Toronto received a quality return in a move that needed to be made for salary cap purposes.
Hawerchuk Passes Away: Jets legend Dale Hawerchuk passed away at the age 57 after a lengthy battle with cancer.  He spent 16 years in the NHL with the majority of his 1,188 games coming with the Jets. He also had a very successful run with Buffalo, averaging more than a point per game over five seasons with the Sabres.  Overall, his 1,409 points have him 20th in all-time NHL scoring.  Hawerchuk had been enjoying his post-playing career behind the bench and had been the head coach of the OHL's Barrie Colts for a decade before his passing.
Photo courtesy of USA Today Sports Images.