The Bruins are now without their starting goaltender as the team announced (Twitter link) that Tuukka Rask has opted out of the rest of the playoffs.  His statement is as follows:
I want to be with my teammates competing, but at this moment there are things more important than hockey in my life, and that is being with my family.

I want to thank the Bruins and my teammates for their support and wish them success.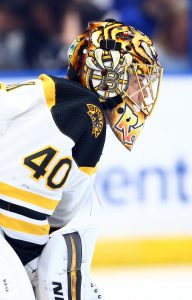 The decision comes just days after Rask commented about the atmosphere in the bubble following Game Two against Carolina when he told reporters, including Joe Haggerty of NBC Sports Boston, that it doesn't feel like playoff hockey and with there being no fans, he equated the situation to that of an exhibition atmosphere.  On a Zoom call with the media, including Sportsnet's Chris Johnston, before today's game, GM Don Sweeney suggested that these comments weren't a factor in his decision to leave.  Instead, he indicated that Rask has a newborn child and two other young children at home and that being away from them proved to be too much of a mental strain on him though he also noted that Rask's family is safe and healthy.  Sweeney also stated that the organization is fully supportive of this decision.
Rask made both starts in the series against the Hurricanes as well as two appearances in the Round Robin and wasn't at his sharpest, posting just a .904 SV% in those four contests.  However, he was coming off one of the best regular seasons of his career, one that saw him with a .929 SV% and a 2.12 GAA in 41 games in the shortened campaign.  Rask was also a key part of Boston's run to the Stanley Cup Final last year as he won all 15 of their games while compiling a 2.02 GAA with a .934 SV%.
With Rask gone, Jaroslav Halak becomes Boston's undisputed starter for the rest of their postseason run.  He's certainly a strong backup option to have and has been a big part of their regular season success over the past couple of seasons where he appeared in over 45% of their games.  Accordingly, it wasn't unreasonable to think that he'd be making an appearance or two in the playoffs even if Rask remained with the team.
Halak is no stranger to the playoffs as he has appeared in five different postseasons before this year.  His best showing came back in 2010 when he helped lead Montreal to two significant upsets before they bowed out.  It was his performance there that helped get him an opportunity as a starting goalie, a role he has held for several seasons over his career so he shouldn't have too much of an issue adjusting to the higher workload.  Including his round robin appearance which counts in playoff stats this season, Halak has a .922 SV% with a 2.45 GAA in 31 games.
Boston's goaltending depth has certainly taken a hit as the other two goalies they have in the bubble with them have limited experience.  Maxime Lagace made a name for himself in Vegas during their inaugural season by getting the starting role by default for a while due to injuries but since then, he has almost played exclusively in the minors.  Meanwhile, the other goalie on their roster is Dan Vladar, a 22-year-old who posted a stellar 1.79 GAA and a .936 SV% in 25 games with AHL Providence this season but does not have any NHL experience under his belt.
This will be Halak's net for the rest of the way and he'll be thrown into the fire quickly with the third game of their series against the Hurricanes less than two hours away.
Photo courtesy of USA Today Sports Images.