The St. Louis Blues not only lost a Norris-level defenseman but also lost their captain when Alex Pietrangelo decided to sign with the Vegas Golden Knights in free agency. Today, one of those things has been restored, with the Blues' announcement that Ryan O'Reilly will serve as captain moving forward. O'Reilly will be the 23rd captain in franchise history and is joined by Vladimir Tarasenko, Brayden Schenn, and Colton Parayko, who will serve as alternates. Blues head coach Craig Berube explained just why O'Reilly was the choice:
Ryan's work ethic on and off the ice and his commitment day in and day out is second to none. He leads by example with how hard he works during practices and our games and he relays the right message from our coaching staff to our entire team.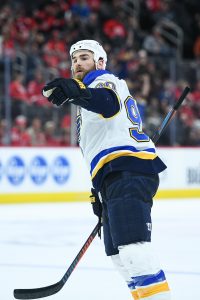 O'Reilly, 29, has actually only been in St. Louis for two seasons but is already a franchise icon. The team's second Conn Smythe winner, he led the Blues to the Stanley Cup in 2019 with a playoff-leading 23 points in 26 games. That followed a 77-point season, a career-high of O'Reilly, but it's really not even his offense that is so important to the team. The 2019 Selke Trophy winner is one of the very best defensive forwards in the entire world, shutting down the middle of the ice while always among the league leaders in faceoff wins. He has received votes for the Selke in each of the last ten seasons, starting when he was just a 19-year-old for the Colorado Avalanche.
Not only does O'Reilly drive offense and shut down opponents, but he also almost never takes a penalty, recording just 106 PIM over his 804-game career, 46 of those coming in his first three seasons. He won the Lady Byng trophy in 2014 when he took just a single minor penalty, a feat he repeated in 2017-18. Though that lack of penalties isn't a flashy stat, it's more important than you might think given that O'Reilly is so important on the penalty kill. When it's never him serving, he's always available to take crucial defensive-zone draws for the Blues.
All of that makes O'Reilly one of the best players on the Blues, but his leadership off the ice and camaraderie with teammates also likely made this an easy choice for the coaching staff. With three years left on his contract, St. Louis has found their leader for at least the next few seasons.
Photo courtesy of USA Today Sports Images