According to many of the reports that have surfaced over the past few days, an NHL season is expected to start on January 13. That means training camp is just a few weeks away and teams only have that time—which includes the holiday season—to get deals done with their restricted free agents. Sure, everyone knows about the negotiations with Mathew Barzal, Pierre-Luc Dubois, and Anthony Cirelli, three players who have grown into NHL stars, but there are many other mid-tier RFAs that are still waiting on contracts too.
Dylan Strome should perhaps have more ink spilled over his ongoing negotiations, given he is a third-overall pick that has scored 89 points in 106 games since coming to the Chicago Blackhawks. For some reason—perhaps because of the stardom of Patrick Kane and Jonathan Toews or the up-and-coming status of Kirby Dach—Strome seems to get lost a bit when writing about the Blackhawks. That's a mistake. The 6'3″ center is still only 23 years old could very well still become the difference-maker that many believe he would when he was picked so high in 2015. Even if he doesn't ever reach that first-line role, Strome is still an extremely valuable player to the Blackhawks and needs a new deal.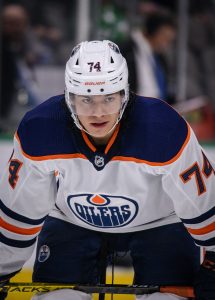 Think back to the start of the 2017-18 season and remember, when a barely 19-year-old sixth-round pick made his entrance. Jesper Bratt, a late-round flier for the New Jersey Devils, played so well in training camp that he earned a roster spot and then scored six points in his first three NHL games. It's a few unspectacular years later, but Bratt is still not one to be completely overlooked. Now just 22, he has 100 points in 185 career games including a strong 16-goal effort in 60 games last season. It's not just Bratt either, the Devils also have Mackenzie Blackwood to sign, their goaltender of the future.
One of the more interesting mid-tier names to follow is Ethan Bear, who really stood out as a potential star on the Edmonton Oilers blueline last season. The 23-year-old doesn't have a lot of leverage after playing just 89 games to this point in his career, but the Oilers would do well to lock him up before a true breakout. Of course, Edmonton doesn't have any cap space at the moment and will need to make a transaction of some sort to even fit Bear in. Oscar Klefbom's status likely has a lot to do with the holdup, as the veteran defenseman is expected to miss a good chunk of the season. Placing him on long-term injured reserve would give the Oilers room to sign Bear, but the team could be waiting for the mechanics of the cap in a shortened COVID-19 season to be sorted out before making any moves.
Perhaps most interesting (at least to this writer), is the situation with Casey Mittelstadt and the Buffalo Sabres. Picked eighth overall in 2017, this is a make-or-break year for the young forward, who hasn't at all established himself at the NHL level to this point. Mittelstadt did play in 77 games during the 2018-19 season but was often overwhelmed by more experienced players at even-strength and ended up with just 25 points—ten of them on the powerplay. This year he split the season between the NHL and AHL, and though he did find some success in the minor leagues, he wasn't the dominant playmaking force that many expected. Instead, he scored just 25 points in 36 games, finishing close to the very bottom of the roster at -15.
For a player like Mittelstadt, what is the answer here? The AHL isn't even guaranteed to have a season at this point and a full year of taxi service—traveling but rarely playing with the improved Sabres—seems counterproductive for his development. It's not often that a trip overseas is a good thing for a high draft pick three years into his professional career, but it's easy to see how a full year playing abroad could have been more beneficial to Mittelstadt than whatever this season holds. Given his complete lack of leverage, you would expect him to be signed already, but alas, he's now nine months from his last competitive game and it's not clear when his next one will be.
Photo courtesy of USA Today Sports Images