It's Thanksgiving this week in the United States and the holiday season is right around the corner. Like the last few years, PHR will take a look at what teams are thankful for but this year comes with a bit of a change. Normally teams would have an idea of where their season was heading, coming up on the one-quarter mark with mountains of statistics to analyze. Instead, in this unprecedented year, the season hasn't even begun. We'll still take a look at what each group is excited about and what they could hope for once the calendar turns to 2021.
What are the Bruins most thankful for?
Their proven veteran core.
Up front, their top line is still among the best number one units in the entire league and accounted for just over 47% of their goals last season.  While that's an indictment of their secondary scoring, it also shows how dominant the trio of Brad Marchand, David Pastrnak, and Patrice Bergeron has been.  It's a line that just gets the job done nightly although they won't all be available for the start of next season.  Once they're all healthy though, watch for them to pick up right where they left off.
That veteran core also includes goaltenders Tuukka Rask and Jaroslav Halak.  The pair have formed a very strong tandem the last two seasons and with a schedule that figures to feature more back-to-backs, few teams will be better equipped for that than the Bruins whose goaltending should once again be near the top of the league.
Who are the Bruins most thankful for?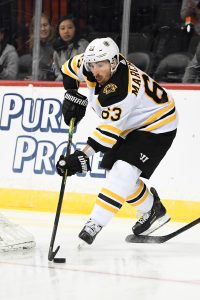 Pastrnak would be an easy choice here as the young sniper on the rise to stardom but at this point, they may be most thankful for Marchand.  Over the years, he has emerged from being an agitator who could contribute in a secondary role to a legitimate star (who can still agitate from time to time).  Not all top liners take a regular turn killing penalties but he does which has led him to average more than 19 minutes per game in each of the last four years.  He has averaged over a point per game in that span as well.  For all of that, they're paying a price tag that some 50-point players were getting in free agency not long ago at $6.25MM.  Better yet, he's locked up at that rate through 2025.  Marchand has been a fixture in Boston for more than a decade and with that contract, he'll continue to be one for several years to come.
What would the Bruins be even more thankful for?
A top-four left-shot defenseman.
Between the departures of Torey Krug (St. Louis) and Zdeno Chara (unsigned free agent), the Bruins have lost over 41 minutes per game from the left side of their back end and a lot of offense.  Management showed that they believe that Matt Grzelcyk is ready for a larger role when they handed him a four-year, $14.75MM deal last month.  But he hasn't played in that role before and neither has anyone else in the organization – John Moore is more of a depth option while their prospects are still largely untested at the NHL level.  Boston is in good shape on the right side led by Charlie McAvoy and Brandon Carlo but they'd feel a whole lot better with a proven option on the left to go with them.
What should be on the Bruins' Holiday Wish List?
Beyond that top-four left-shot defender, the Bruins could also stand to try to upgrade their secondary scoring some more.  Craig Smith was a nice addition but knowing that Pastrnak will miss time (and potentially Marchand), they're going to take a step back offensively in the early going.  They're one of the few teams that's willing to spend and still has a bit more than nominal cap room remaining.  Can they afford a top-six forward?  Not as things stand but if they strike out on adding a defender, a middle-six winger that's looking to try their luck on the open market again next season would certainly help their chances and really give them three lines capable of producing when everyone is healthy.
Photo courtesy of USA Today Sports Images.