The Tampa Bay Lightning have locked up one of their incredible young talents for another few years, signing Mikhail Sergachev to a three-year contract. The deal will carry an average annual value of $4.8MM. Sergachev was a restricted free agent without arbitration rights. Pierre LeBrun of The Athletic reports the full breakdown:
2020-21: $2.4MM
2021-22: $4.8MM
2022-23: $7.2MM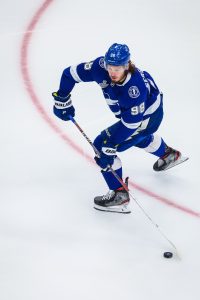 Technically, this move takes the Lightning about $2MM over the $81.5MM salary cap ceiling for the upcoming season, with Anthony Cirelli and Erik Cernak still to sign. Still, getting Sergachev under contract for a reasonable amount was imperative, especially with the threat of an offer sheet still theoretically out there.
Make no mistake, even at $4.8MM, Sergachev still represents some excess value for the Lightning. The 22-year-old defenseman, who the Lightning acquired in exchange for Jonathan Drouin in 2017, would likely be a top-pairing player already on many of the teams around the league. That hasn't been required in Tampa Bay where Victor Hedman and Ryan McDonagh continue to soak up huge minutes on the blue line, but Sergachev has still seen substantial increases in playing time each season. This year, his third with the Lightning, he recorded a career-high 10 goals in 70 games, racking up 34 points and logging more than 20 minutes a night. That performance carried over to the postseason where he was even more effective, averaging more ice time than any Tampa player not named Hedman or McDonagh en route to a Stanley Cup victory.
Not only could Sergachev probably shoulder a heavier offensive load, but his defensive game has also improved enough to believe he could be an all-situations star. He became a legitimate option on the penalty kill this season, producing excellent results whenever trusted to be out there short-handed, while still playing a strong second fiddle to Hedman on the team's powerplay units. Financially, he'll now slot in behind Hedman ($7.875MM cap hit) and McDonagh ($6.75MM) in a tricky cap puzzle for GM Julien BriseBois.
That puzzle has a few extra pieces right now, making it even more challenging to finish. The team will have to at some point move out one or more of their expensive contracts like Tyler Johnson, who was shopped and placed on waivers earlier this summer. There is of course the chance that a player could be injured and placed on long-term injured reserve to help them become compliant, but with Cirelli and Cernak to come the team simply can't afford everyone.
Sergachev will still be a restricted free agent when this contract expires, though he'll be just one year away from UFA status and arbitration-eligible. If his career continues down its current path, he'll have an incredible amount of leverage in his next negotiation. One would have thought the offer sheet scenario would have been extremely enticing to a player like him, who could have certainly made more elsewhere, but Joe Smith of The Athletic reports that Sergachev actually agreed to a three-year structure with the Lightning shortly after the season ended and wanted to "give it another go" with the Cup champions in Tampa.
Photo courtesy of USA Today Sports Images