More than two weeks into unrestricted free agency, winger Mike Hoffman is the top player that's still unsigned and he has been for a little while now.  The fourth-ranked player in our Top 50 UFA list, the 30-year-old has been one of the more consistent goal scorers in the league in recent years and is particularly adept with the man advantage.  Plenty of teams could use him in their top six.
So why is he still unsigned?  Money, of course.  The flattening of the salary cap has greatly impacted the free agent market, especially up front.  Many players have had to sacrifice from their initial requests in terms of salary, number of years, or both.  It certainly seems that Hoffman will be in that situation and he has indicated a willingness to accept a one-year deal and there is considerable interest in him on a short-term deal (cap space permitting, of course, which is a caveat we're going to see plenty of over the next couple of months).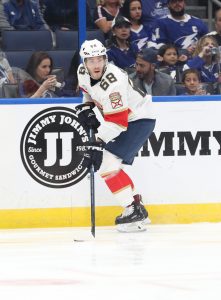 But is that the right course of action for Hoffman?  Unlike Taylor Hall, he's not really in a situation where he's looking to restore his value.  Even with the pandemic, Hoffman is coming off of one of the best statistical seasons of his career.  It's not as if taking a one-year deal will put him in a better situation to hit the market a year from now.  Regardless of where he plays, he's a safe bet to score around 25 goals and 55 or so points.
The reality of the COVID-19 situation is that its mark will be felt on league revenues for a while yet.  The salary cap isn't going up next summer and the cap space squeeze is going to be quite significant again.  It's not as if things are going to drastically change for the better from a financial perspective.
With that in mind, would he be better off taking a multi-year deal now even though it would assuredly come at an amount lower than he was expecting and a cut from the $5.1875MM AAV he had over the last four seasons?  A two-year deal would take him through the new US television contract which could help send the Upper Limit of the cap back up, albeit slowly and the cap clutter could clear to an extent by then.  A longer-term contract would again likely cost a team less but give him some certainty for his future at a time where, quite frankly, there isn't a whole lot of certainty.
The ideal scenario for Hoffman was to get a big contract and get off the board early.  Clearly, that's not happening now so it's time for Plan B.  What term should Hoffman's camp be pursuing at this point, short term, long term, or something in between that gives him a bit of security but another shot at the market down the road?  Have your say by voting in the poll below.
Mobile users, click here to vote.
Photo courtesy of USA Today Sports Images.