With free agency now just a few days away, teams are preparing for a frenzy of action. There will be several prominent players set to hit the open market while many teams have key restricted free agents to re-sign.  After one of the worst seasons in NHL history, the Detroit Red Wings have a ton of work to do in order to continue their drastic rebuilding process.
Key Restricted Free Agents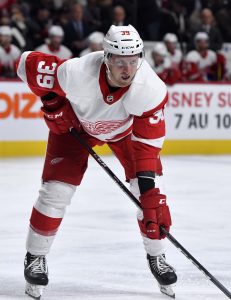 F Anthony Mantha – It's hard to fathom that Mantha is already 26 years old, but here he is just days away from becoming a restricted free agent for the second time after his two-year bridge deal expires. While a long-term deal may be the best way to keep him in Detroit and avoid unrestricted free agency, Craig Custance of The Athletic wrote yesterday that a shorter-term deal is more likely in this case. Custance suggests a three-year contract could work, which would cover Mantha's age-27, 28, and 29 seasons. The big winger has become an integral part of the Red Wings attack, tallying 82 goals in just 250 games over the last four seasons.
F Tyler Bertuzzi – If Mantha is going to come in on a three-year deal, where does that leave Bertuzzi, who actually led the Red Wings in goals this season. The scrappy, in-your-face forward is arguably the second most important player on the team currently and will be arbitration-eligible this offseason. Bertuzzi will turn 26 next season despite having fewer than 200 NHL games on his resume but is negotiating after back-to-back 21-goal seasons. A player bred for the playoffs, he hasn't seen a sniff of the postseason yet in his career.
F Brendan Perlini – In his first three seasons, Perlini scored 45 goals in 199 games. Last year for the Red Wings, he scored one. The 12th overall pick from 2014 has almost completely fallen off the map as an NHL player and is on his third organization in two years. Still just 24 there are so many measurables you can fall in love with when you look at the 6'3″ winger, but he just hasn't been able to put it together on the ice recently. At this point, given he is arbitration-eligible with a history of success in the NHL, it's not even clear if the Red Wings will issue him a qualifying offer. Perhaps they take another chance on him because they're not expected to compete this season, but time is ticking for his goal-scoring ability to reappear.
Other RFAs: F Adam Erne, F Dmytro Timashov, F Christoffer Ehn, D Madison Bowey, F Taro Hirose, D Kyle Wood
Key Unrestricted Free Agents
Frankly, the Red Wings don't have any key free agents this offseason. GM Steve Yzerman has already been quite forthcoming with the fact that he doesn't plan on re-signing Trevor Daley, Jonathan Ericsson or Jimmy Howard, three veterans who will have to try and find work elsewhere.
Daley, 36, has been a steady two-way defenseman in the league for years but is showing his age and is coming off a forgettable three-year stint in Detroit. He scored just seven points this season and saw his minutes drop to less than 16 minutes a night.
For the 36-year-old Ericsson things are arguably even worse, despite a long history of solid play in Detroit. He played just 18 games this season and failed to register a single point. Instead, he spent time in the minor leagues for the first time in over a decade.
Howard, who Yzerman confirmed today would not be re-signed by the team, is a goaltender won just two of his 27 appearances in 2019-20 and will turn 37 in the middle of next season. The decision to not bring any of them back is understandable for a team that wants to transition to the next wave of talent.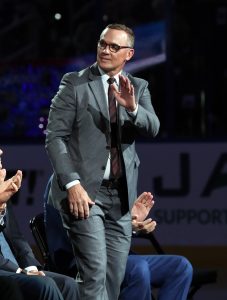 Other UFAs: F Kyle Brodziak, F Cody Goloubef, F Matt Puempel, F Chris Terry
Projected Cap Space
Now here's the fun part for Red Wings fans. Even after acquiring Marc Staal and his $5.7MM cap hit (landing a second-round pick in the process), Yzerman has more than $27MM in cap space to play with. Even more, considering that $6.08MM of the $54.1MM he has committed to next season is for Henrik Zetterberg, who won't play again and sits on long-term injured reserve. The Red Wings don't have a single contract that extends past 2022-23, meaning he can pretty much build this team in any way he pleases. The Stanley Cup isn't going to come next year, but there is a light at the end of the tunnel and it keeps growing brighter.
Photos courtesy of USA Today Sports Images