The hot stove is heating up in the NHL and Oliver Ekman-Larsson is at the center of it all. He was listed as the top name on Frank Seravalli's Trade Bait board for TSN and linked to the Edmonton Oilers. Darren Dreger threw cold water on the Edmonton connection as the Oilers are not currently on a short list of teams that the Coyotes captain would waive his no-movement clause for, but Elliotte Friedman of Sportsnet has turned up the heat once again. Friedman tweets that the Boston Bruins and Vancouver Canucks are on that list of approved teams, while Craig Morgan of AZ Coyotes Insider says that Boston is a "favored destination."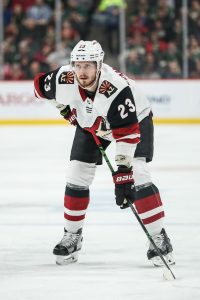 When a GM told Seravalli that a number of "franchise-changing" players are being discussed each day, perhaps this is what he meant. Ekman-Larsson is the Coyotes highest-paid player, their captain and has been an anchor on their blue line for years now. The 29-year-old defenseman has seven years remaining on a $66MM extension he signed in 2018 and carries an $8.25MM cap hit.
In a normal year, it's hard to imagine Arizona even considering a move like this. But with new management in GM Bill Armstrong and a payroll that could need to be drastically slashed thanks to lost current and future revenue, Ekman-Larsson may have played his last game for the Coyotes.
If that's true, he leaves behind quite a legacy in the organization. The sixth-overall pick in 2009, Ekman-Larsson was a full-time player for the Coyotes by the 2010-11 season and tallied 364 points over 723 regular season games. That puts him behind only Teppo Numminen for the franchise lead, even counting the original Winnipeg Jets years. His 125 goals lead all franchise defensemen and put him among the upper-echelon in scoring defenders in the NHL.
That offensive production could certainly be why the Bruins have checked in, given they could be losing Torey Krug to unrestricted free agency in the coming days. Krug is one of the top offensive defensemen in the league, but his role could certainly be filled by Ekman-Larsson in the coming years.
How either Boston or Vancouver fit an $8.25MM cap hit into their current structure is unclear, but a deal like this would require plenty of moving pieces even without cap implications. Vancouver for instance could potentially get out of a bad contract like Loui Eriksson, who is owed just $5MM in actual salary over the last two years of his contract once his signing bonus is paid. That said, adding long-term cap doesn't seem prudent for a Canucks team that will have to sign Elias Pettersson and Quinn Hughes before long.
Photo courtesy of USA Today Sports Images