One of the things most talked about in the hockey world as we approach the draft and free agency is the game of musical chairs that awaits many of the league's goaltenders. Braden Holtby, Robin Lehner, Jacob Markstrom, Anton Khudobin, Cam Talbot, the list of goalies headed to unrestricted free agency is almost endless. Trade rumors about many more have surfaced, with Frederik Andersen, Matt Murray, James Reimer, and Marc-Andre Fleury all potentially on the market.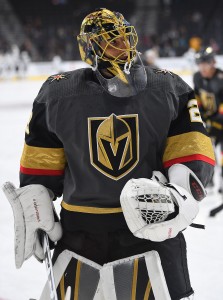 In Fleury's case specifically, the veteran goaltender has expressed a desire to remain with the Vegas Golden Knights even if Lehner is re-signed.  Speaking to Jesse Granger of The Athletic, Fleury made it clear that he is not asking for a trade, even if he has seemingly lost the starting role. Vegas means a lot to him and Fleury has meant a lot to the Golden Knights in their first three years of existence. It's just that his salary makes him an exceedingly expensive option as a backup goaltender.
Fleury's $7MM cap hit may be too rich for the Golden Knights to keep around as a backup, but make no mistake there will be an increased emphasis on the goaltending position this offseason. Even those teams with outstanding starters will be looking for legitimate backup options as we head towards the condensed 2020-21 season. It may not even end up needing the "2020" part, given the regular season is now not expected to start until January.
If that's the case and the league continues to remain steadfast on playing the full 82-game schedule, next season will be extremely difficult on starting goaltenders. Back-to-back situations will come up much more frequently, with three-in-four-nights often also becoming the norm. Even the league's most durable goaltenders won't be able to play the same number of games that they're used to, meaning a capable backup will be more valuable than ever.
That's exactly the reasoning behind Montreal's recent acquisition of Jake Allen from the St. Louis Blues. The Canadiens are now spending more than any other team on goaltending for the upcoming season, but have a backup they can rely on to keep Carey Price fresh even in a condensed season. If Allen is asked to start 30 or even 35 games, Price will be even fresher for a potential playoff run.
Sure, the Tampa Bay Lightning rely heavily on Andrei Vasilevskiy to carry their goaltending load, but other teams are definitely looking at what Khudobin has done for the Dallas Stars and wondering if they need to improve their own backup situation. With that in mind, the opportunity for some of those free agent netminders may not be as limited as once believed.
Take a team like the Washington Capitals, for instance. While they have obviously made the decision to move on from Holtby and hand the reins to young netminder Ilya Samsonov, what kind of guarantee do they have that he can handle the job by himself? Samsonov's heaviest workload as a professional came in 2018-19 when he appeared in 37 games for the Hershey Bears of the AHL. Is Pheonix Copley or Vitek Vanecek the answer behind him in a condensed schedule?
What about the Winnipeg Jets, where Connor Hellebuyck led all goaltenders in appearances this season en route to the Vezina Trophy. There's no doubt that he'll be taking a heavy load again next season, but it'll be hard to pick out 65 games and not include several back-to-back situations. That team spent just $1.225MM on Laurent Brossoit last season, but perhaps they'll be another landing spot for one of these veteran options that come with a bit bigger price tag.
For those looking to predict who sits where when the music stops, a condensed 2020-21 schedule is among the most important considerations. You might be surprised by how many teams are looking to shore up the position, even if they already have a star in net.
Photo courtesy of USA Today Sports Images