When the Oilers brought in Andreas Athanasiou at the deadline, the deal made a lot of sense.  They were getting a player a year removed from a 30-goal season that is still under team control and while he is owed a $3MM qualifying offer, the anticipated jump in the salary cap would help offset that.  His next deal might be a little pricey but it would be justifiable and they'd be able to afford it.
Things have changed since then.  The 26-year-old struggled in limited action (two points in nine regular season games and zero in the Qualifying Round) and the COVID-19 pandemic means that the planned increase in the salary cap is out the window and it is going to be a few years before we see that jump again.  All of a sudden, the $3MM qualifier isn't as palatable.
To that end, TSN's Frank Seravalli reports that Edmonton is now trying to trade Athanasiou in advance of the tender deadline for qualifying offers which is at 4 PM CT on October 7th, mere hours after the draft ends.  That's an early signal that Oilers GM Ken Holland is unwilling to pay that price tag and that they may be preparing to non-tender him even though they parted with a pair of second-round picks just months ago to get him.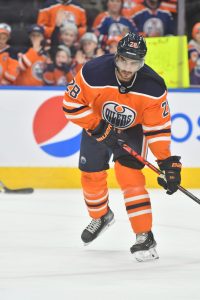 Edmonton does have some options here but they're not particularly ideal.  They could elect to take him to arbitration and in doing so, could come in with an offer of 85% of Athanasiou's salary last season which would check in at $2.55MM.  But doing that could potentially lock in an arbitration award if they didn't settle before the hearing.  With his 30-goal campaign from 2018-19, it's possible that an arbitrator could come in higher than the $3MM qualifier.  Anything under $4,538,958 means that Edmonton couldn't walk away so taking him to arbitration could cost them.  Of course, merely tendering the qualifying offer could eventually result in player-elected arbitration so it stands to reason that if they do have a change of heart and try to keep him, club-elected arbitration (with an October 4th deadline) would be the way to go.
They could always try to work out a contract with a lower price tag (there isn't a rule against signing for less than a qualifying offer) but finding a price point that's workable for both sides is limited.  Athanasiou likely wouldn't want a multi-year deal knowing he's a year away from regular UFA eligibility anyway and if he thinks someone would give him the $3MM (either via the qualifying offer or as a non-tendered free agent), there isn't much incentive to sign for less.  Even if he was willing to take a small cut, could Edmonton afford that anyway given their cap situation (nearly $71MM in commitments to 16 players currently) or would he still be too expensive?
The other option is the one they're exploring now which is the trade route.  But how good are the offers going to be knowing that Edmonton is in a spot where they'll likely have to non-tender him?  Unless there's a team that is ready and willing to pay at least $3MM for Athanasiou's services next season, they're not going to receive anything of consequence for his rights.  Something small is still better than nothing but it would still sting considering what they gave up for him.
It's basically a no-win situation for Edmonton here when it comes to Athanasiou's future with the team which is why it appears that future is unlikely to last longer than the next two-and-a-half weeks.
Photo courtesy of USA Today Sports Images.