As teams are eliminated from the playoffs, it means that the offseason has arrived for several more squads.  Having covered the teams that weren't a part of the NHL's return and the ones ousted in the Qualifying Round, we shift our focus to the ones that were eliminated in the official first round.  Next up is a look at Carolina.
After what many would call a Cinderella playoff run a year ago, the Hurricanes picked up where they left off this season and found themselves in a postseason position before the pandemic hit.  From there, they made short work of the Rangers, a popular sleeper pick, in the Qualifying Round and it looked like they might be on their way again.  However, Boston stopped them in their tracks to end their season.  While it ended on a sour note, it seems unlikely that Carolina will make a bunch of changes but some tweaks may be on the menu.  Here's what GM Don Waddell should be looking to accomplish over the coming months.
Look Into Goalie Upgrade
On the surface, suggesting that a team that allowed the sixth-fewest goals in the league this season needs a goalie upgrade would seem a little strange.  However, it's certainly an area that could be improved upon and it's looking like this could be an offseason where there is more goalie movement than usual so the timing may be right.
Petr Mrazek and James Reimer have both been starters for stretches of their careers and backups for others due to their inconsistency.  Mrazek had the larger share of the workload but only managed a .905 SV% this season which is well below average for a starter.  Reimer fared better at a .914 mark but in 15 fewer games.  Between the two of them, they combined for a .908 SV% which isn't great and looks a bit worse when you consider they play in front of one of the better defense corps in the league and allowed the second-fewest shots during the regular season at 29.3 per game.
Both netminders are also a year away from unrestricted free agency.  At this point, it doesn't seem likely that both would be brought back and the team still has hopes for Alex Nedeljkovic to be part of their future plans as well.
With that in mind, why not look to try to upgrade?  At the very least, they've been linked to Toronto's Frederik Andersen already and there will undoubtedly be others as well.  With Mrazek and Reimer, the Hurricanes have a reasonable floor to work with between the pipes but even finding a small upgrade during the offseason goalie shuffle would be an important step and it's something that should be attainable.
Extension Talks
Late last month, Waddell indicated that there's no timetable to work on contract extensions for two of his top players but that he hopes to work on new deals for winger Andrei Svechnikov and defenseman Dougie Hamilton sooner than later.  Knowing that both are in line for considerable raises, getting early extensions done would go a long way towards providing some certainty towards what they'll have to spend beyond 2020-21 which could have an impact on what types of other additions they target in the coming months.
The 20-year-old Svechnikov took a big step forward offensively this season, finishing third on the team in scoring with 24 goals and 37 assists in 68 games.  He did so without a major jump in playing time as well as he logged just 16:44 per night.  There's room for a bigger role and with it, the potential for another offensive jump next season.  Accordingly, it's reasonable to think that a long-term deal will cost more a year from now if one of the two sides opt to wait.  On the other hand, with the salary cap projected to only increase minimally for the next few years now due to the pandemic, Svechnikov becomes a candidate for a bridge contract which is something they could try to work out now to get that cost certainty in place.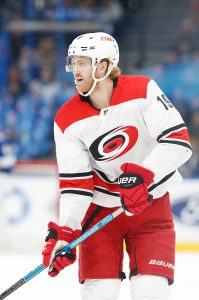 As for Hamilton, he was in the midst of a career year before fracturing his fibula on mid-January.  Before that injury, he was just shy of a point per game (40 points in 43 contests) while logging 23:17 per game, a new career best.  He also got into five playoff games (after missing the Qualifying Round series against the Rangers with another injury), picking up a goal and an assist while playing nearly 25 minutes a night.  With his performance this season, Hamilton has shown himself to be capable of being a top-pairing defenseman which makes his current $5.75MM cap hit look like quite a bargain.  He'll be 28 when he hits the open market and will be in the prime of his career so even with the cap projections not being what they were earlier this season, he's going to be in line for a big raise.  Hamilton is a big part of Carolina's back end and locking him up on a long-term deal would be a big win for them this offseason and ensure that another foundational piece sticks around.
Add A Secondary Scoring Upgrade
With Svechnikov, Sebastian Aho, and Teuvo Teravainen, the Hurricanes have a strong top line offensively.  All three managed to pick up more than 60 points in the pandemic-shortened campaign which is quite good.  However, they were the only three forwards to have more than 37 points.  Only two players managed to reach the 20-goal mark while Martin Necas (who was fourth in points with 36) may have had a shot at it had the regular season not been ended early.
On paper, Carolina has quite a few players that should fit that bill.  Nino Niederreiter was great in his first season with the team but tapered off this season while Jordan Staal's output has dropped in recent years as well.  Ryan Dzingel was brought in to replace Justin Williams (who eventually came back) but he wasn't even able to hold down a regular spot in the lineup.  Vincent Trocheck was added at the trade deadline but was quiet in his first action with his new team.
Optimistically speaking, some of those players should be better next season and that in itself should help.  But adding someone to replace Williams and do the job that Dzingel hasn't would go a long way towards helping secure a reliable second offensive trio which is something they will need to get back to being a playoff threat for next season and beyond.
Photo courtesy of USA Today Sports Images.