The Vancouver Canucks have one of the more precarious salary cap situations in the league as they enter the offseason. While they project to have close to $14.3MM in space for next season, things are going to get a lot different in a year. That's when Elias Pettersson, Quinn Hughes and Thatcher Demko will all hit restricted free agency at the same time, potentially eating up a huge chunk of the salary cap as the team's young core.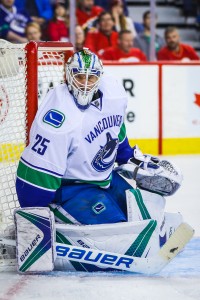 With that expensive offseason right around the corner, Canucks GM Jim Benning will have to play his cards quite carefully next month to make sure he doesn't back himself into a corner. That includes UFA negotiations with Chris Tanev, Tyler Toffoli, and perhaps most importantly, starting goaltender Jacob Markstrom.
Rick Dhaliwal was on TSN radio today talking about the Canucks pending free agents, even expressing awe that the team has still not worked something out with Markstrom:
This has not been an easy negotiation. We're 15 months into this and now he's 17 days away from walking and leaving. The two-time MVP of this team, he's 17 days away from walking away from this team. They've been negotiating for 15 months–think about that for a second–and they're not closer. There is still tons of work to do before they get a deal done.
Dhaliwal suggested again that the goaltender is looking for a deal with a cap hit of around $6MM, but stressed how challenging the negotiation has been so far. Markstrom, 30, is coming off his second straight year receiving Vezina Trophy votes, actually finishing fourth this season after putting up a .918 save percentage in 43 appearances. His market will be strong should he reach unrestricted free agency, something that Benning explained he was trying to avoid at his end of season press conference:
We're going to try and figure out a way that makes sense for us and makes Jacob and his agent happy. Try and figure out a deal to get him signed. We want him back. We're going to start working on that this week.
The question still comes back to that future cap situation though, especially given what Demko did in the playoffs with Vancouver. Though he's not nearly as proven—Demko has just 37 regular season appearances under his belt—the Canucks could potentially hand the starter role to him next seaosn and take their chances with him on a full-time basis. They could also go after another free agent netminder instead, with Dhaliwal bringing up the names of Braden Holtby, Thomas Greiss and Cam Talbot as potential options.
In terms of Tanev, Dhaliwal explains that while Markstrom and Toffoli are the focus for Vancouver, the veteran defenseman hasn't even received a contract offer from the Canucks at this point. Tanev, who will turn 31 in December, was the focus of a report today from Rob Rossi and Josh Yohe of The Athletic, which indicated that the Pittsburgh Penguins will be after him should he hit the open market. Tanev is the older brother of Penguins forward Brandon Tanev, who was given a long-term deal by Pittsburgh GM Jim Rutherford last summer.
Even though he is not an effective offensive weapon, Tanev has logged big minutes whenever healthy over the last decade in Vancouver. He registered 20 points in 69 games this season while still logging more than three minutes of short-handed ice time every night.