As things stand, the NHL is planning to have games resume at some point over the coming weeks.  Assuming the regular season continues, there will be plenty of things to watch for over the stretch run.  Over the coming weeks, PHR will examine the top stretch run storylines for each team.  We continue our look at the Atlantic Division with Buffalo.
The Buffalo Sabres had high hopes the team would make that next step this offseason and the team did start strong once again with Jack Eichel leading the way. However, once again, the Sabres struggled midway through the season and saw them drop in the standings and out of the playoff race. The team in some ways is quite young, but with no playoff appearances since the 2010-11 season, there is quite a bit of pressure on the team to figure things out and get back to winning.
Lack Of Long-Term Deals
One of the most interesting things about the Sabres is that their future is quite open as Buffalo has locked up just five players past the 2020-21 season and will have to start looking at locking up some of their talent long-term at some point down the road. The biggest problem for Sabres' management is that they have made some poor decisions over the years with long-term deals handed out to Kyle Okposo and more recently Jeff Skinner, both of which currently look like questionable deals.
The team should gain quite a bit of cap space this summer with a number of players about to hit unrestricted free agency, including Wayne Simmonds, Michael Frolik, Jimmy Vesey, Zemgus Girgensons, Johan Larsson, Matt Hunwick and Vladimir Sobotka. While the franchise may bring one or two of them back, it does free up some cap room to add some talent. The team also have a number of restricted free agents, who could be eligible for long-term deals, including Sam Reinhart, Victor Olofsson, Dominik Kahun, Brandon Montour and Linus Ullmark. The question is whether Buffalo is ready to lock some of these players up.
Goaltending Questions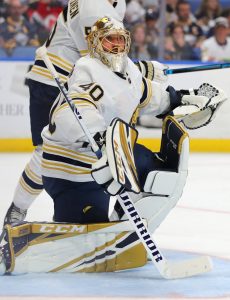 The Sabres thought they solved their goaltending issues a couple of years ago when they signed Carter Hutton to a three-year deal. However, that experiment hasn't gone well either. The goaltender has struggled in a starting role, struggling even more this year than in his first season. This year in 31 appearances, the 34-year-old has a 3.18 GAA and .898 save percentage and finally the Sabres decided to split the starts between Carter and Ullmark.
Ullmark is a lock to return, but the question is what to do with Carter. Do they want to give him one more chance or perhaps buy out his final year. Is Ullmark, who did show significant improvement this season (2.69 GAA, .915 save percentage in 34 appearances), ready for a starting role? Should the team go out and sign one of the many big-named unrestricted free agent goalies this offseason? Lots of questions, but the team must make a decision down the road to fix those woes.
Development Of Youth
The Buffalo Sabres now need their youth to take that next step in their development. The team has finally seen Eichel take that next step into both a leader on and off the ice, which is something the Sabres needed desperately. Olofsson proved extremely valuable in his rookie campaign with 20 goals and 42 points in 54 games, but dealt with some injuries that prevented him from making an ever bigger impact on the ice.
However, what the Sabres need is for more of their young talent to take that next step. Casey Mittelstadt struggled even more in his second season with just four goals and nine points in 31 games and was sent to Rochester to work on his confidence. Promising youngster Tage Thompson also spent the season with the Americans of the AHL to work on his game and was injured quite a bit. Defensive acquisition Henri Jokiharju struggled in his first season as well.
What the team needs is for some of their young players to take that next step like Eichel. Buffalo needs more from Rasmus Dahlin, the first-overall pick in 2018, and they must successfully develop prospect Dylan Cozens if/when he makes the team next year. Others need to step up as well.
Photo courtesy of USA Today Sports Images.