As things stand, the NHL is planning to have games resume at some point over the coming weeks.  Assuming the regular season continues, there will be plenty of things to watch for over the stretch run.  Over the coming weeks, PHR will examine the top stretch run storylines for each team.  We look at the Atlantic Division with Tampa Bay.
It's been a strange year for the Tampa Bay Lightning, who many felt would step into the 2019-20 season with vengeance in their minds after an embarrassing first-round exit in the playoffs last year when they were the most dominant team in hockey. Instead, the team started slowly and quickly found themselves sitting outside the playoffs. There was even some discussion that the team could let go head coach Jon Cooper, although general manager Julien BriseBois gave him a vote of confidence. Then everything changed around Christmas when the Lightning went on a 10-game winning streak and followed that up in late January with an 11-game winning streak that vaulted them into a solid second place standing in the Atlantic Division.
Stamkos Return?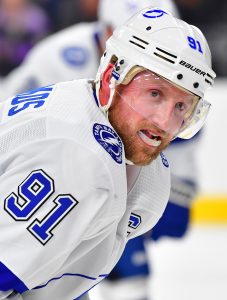 The timing of his injury couldn't have been worse back in early March when it was announced that Steven Stamkos would be out for six to eight weeks to have surgery to repair a core muscle injury. That would likely have required the top-line star to miss the first round of the playoffs in the best case scenario. The suspension of play is only going to be an advantage to injured players as it gives them time to heal and Stamkos could receive the biggest advantage as he now should have plenty of time to recover and be ready to hit the ice when play resumes. So far he's close to reaching the half-way point of his recovery process and in a few weeks time could be ready for action again, which should be plenty of time.
Stamkos is second on the team in scoring with 29 goals and 66 points and while those numbers are down compared to previous seasons, likely due to his core muscle injury that has slowed him down, a healthy Stamkos could be a difference-maker in the playoffs.
Salary Cap Issues
The Lightning also have to start looking to the 2020-21 season when their salary cap could be significantly affected, especially if the cap flatlines. The team doesn't have any significant contracts that are set to expire and those that are, like Kevin Shattenkirk or Pat Maroon, are players the Lightning are likely going to want to extend.
Throw in the fact that goaltender Andrei Vasilevskiy's new contract will kick in as his AAV will go from $3.5MM to $9.5MM, and the fact that defenseman Mikhail Sergachev's entry-level deal expires, meaning a raise is in order for the fast-developing blueliner and Tampa Bay has some issues.
That likely will require BriseBois to make some trades to fix those cap concerns and even out their roster. He had some success at that last year when he was able to trade forward J.T. Miller to Vancouver for a conditional first-rounder that since has been traded away for more immediate help. The team may have to unload even more this offseason to balance the cap.
Potential Meeting With Maple Leafs
If the playoffs do hit, it almost seems inevitable that the Lightning will find themselves with the inconsistent, but potential playoff wrecker in the Maple Leafs. The team avoided their top-heavy Atlantic last season, clinching first place and a wild-card opponent. Unfortunately, that didn't go well as they were swept by Columbus.
However, with Boston eight points ahead of the Lightning, it's obvious that they will face off against Toronto. While the Maple Leafs have been erratic all season, that doesn't mean the Lightning are looking forward to the combination of John Tavares, Auston Matthews, Mitch Marner and William Nylander, any of which can change the outcome of playoff games. It could be the most interesting of the first-round matchups, assuming the playoffs happen.
Photo courtesy of USA Today Sports Images.