With the trade deadline now less than a month away, we will be taking a closer look at the situation for each team over the coming weeks.  Where do they stand, what do they need to do, and what assets do they have to fill those needs?  Next up is a look at the San Jose Sharks.
It couldn't have been a worse season for the Sharks, who were expecting to be near the top of the Pacific Division, only to find themselves looking old and depthless and sitting near the bottom. The team tried to fix things by firing coach Peter DeBoer, who one month later took a job with the rival Vegas Golden Knights. To make matters worse, the team has lost two of its best forwards to injury, including captain Logan Couture and all-star Tomas Hertl. If that wasn't bad enough, the Sharks also don't have their first-round pick, which they sent to Ottawa to acquire Erik Karlsson. Tough year.
Record
22-26-4, sixth in the Pacific Division.
Deadline Status
Seller
Deadline Cap Space
$2.97MM in a full-season cap hit (using LTIR), 0/3 used salary cap retention slots, 49/50 contracts per CapFriendly
Upcoming Draft Picks
2020: SJ 2nd, PHI 3rd, OTT 5th, SJ 5th, PIT 7th, WAS 7th
2021: SJ 1st, SJ 3rd, SJ 4th, SJ 5th, SJ 6th, SJ 7th
Trade Chips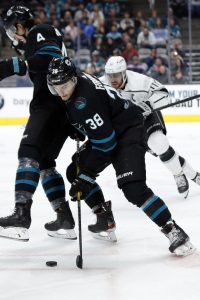 Perhaps the biggest trade chip for San Jose will be defenseman Brenden Dillon. The 6-foot-4, 225-pound blueliner is in the final year of his contract and is expected to hit unrestricted free agency and could demand a significant raise to his $3.27MM cap hit he currently has and is in high demand of teams needing defensive help. Dillon may not provide significant offense, but his physical nature is a plus for teams looking for a top-four d-man. While he has 13 points this season, Dillon also has 58 blocks and more importantly, has 159 hits, which could develop into a career high. Quite a few teams are likely to express interest from them including rival Vegas, where DeBoer might want Dillon to come back and play for him.
The team also has a couple of veteran leaders who could possibly be dealt. Both Joe Thornton and Patrick Marleau could be the perfect trade candidates for playoff teams, looking to bring in bottom-six talent at a low price. The 40-year-old Thornton ($2MM AAV) has just two goals this season and is showing his age, but his leadership could be invaluable for the right team. While he does have a no-movement clause, he didn't reject the idea when asked if he'd be willing to waive that, suggesting he might if the right team comes calling. Marleau might even be the better bargain at the league minimum ($700K) without a no-trade clause. He has 10 goals in 48 games so far.
Five Players To Watch For: G Aaron Dell, D Brenden Dillon, F Melker Karlsson, F Patrick Marleau, F Joe Thornton
Team Needs
1) A First-Round Pick: It's bad enough that the Sharks could end up giving a top lottery pick (in a good draft) to the Ottawa Senators. However, the team has moved quite a few of their draft picks and are rumored to be on the lookout for a first-round pick to replace the one they traded away. Whether that type of return is possible for what the team is looking to move seems unlikely, however.
2) Young talent: The Sharks hope is to retool quickly with a potential return to the playoffs as quickly as next year, considering the team has six players locked up to expensive long-term contracts for the next four years after this year and that doesn't include Timo Meier or a new contract for Kevin Labanc. The team seems to lack young players in their prospect pool and even fewer who are ready to step into the lineup, so bringing in some talent that might be able to contribute immediately might be exactly what the team is looking for.
Photo courtesy of USA Today Sports Images.