With the trade deadline quickly approaching, we continue to profile players that have a good chance to be dealt by February 24th.
Sami Vatanen is a defenseman that has seemingly been on the verge of becoming a core player for several years now.  He looked well on his way to becoming one before Anaheim traded him to New Jersey back in 2017 and since then, he has been a serviceable player for them but hasn't really emerged as that top piece.
At the time of his acquisition, it seemed likely that Vatanen could become a part of their long-term plans for a revamped back end.  Instead, with the Devils out of contention, it appears likely that he will be on the move over the next few weeks.
Contract
Vatanen is in the final season of a four-year, $19.5MM deal that he signed back in 2016 while still with Anaheim.  His $4.5MM salary is slightly lower than the $4.875MM AAV of the deal.  The initial contract contained a 12-team no-trade clause once he turned 27 but as he was dealt before then, it was nullified and likely not assumed by New Jersey.  Vatanen is eligible for unrestricted free agency in July.
2019-20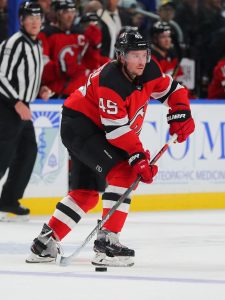 While things haven't gone too well for the Devils this season, Vatanen is having a decent year.  For starters, he has managed to stay in the lineup (aside from a brief upper-body issue).  After playing in just 50 games last year, he's almost at that total already which bodes well both for New Jersey in terms of trade value but also for Vatanen in terms of bolstering his free agency case this summer.
Offensively, the 28-year-old is at his best point per game pace since the 2015-16 season with Anaheim.  He leads all New Jersey blueliners in points while sitting third in ATOI; his 21:45 mark is just above his career average.  Many Devils have underachieved but Vatanen hasn't been one of them.
Season Stats
47 GP, 5 goals, 18 assists, 23 points, -12 rating, 22 PIMS, 95 shots, 21:45 TOI, 48.1 CF%
Potential Suitors
Impact defensemen are hard to find at this time of year and while Vatanen isn't a top pairing option, he's a quality player that can boost a second pairing or be an anchor on a third pair.  With that in mind, pretty much any contender that's looking to add more than simple defensive depth should be calling Devils interim GM Tom Fitzgerald.
In the East, Carolina recently lost Dougie Hamilton, a skilled right-shot defender, with a long-term injury.  They were already somewhat surprisingly sniffing around a defensive upgrade but Vatanen would be a strong stylistic replacement for him.  They also should have the cap room to bring him in without LTIR assistance closer to the deadline and have extra picks in the top three rounds this year at their disposal.  Toronto is another team that has been looking for defensive help all season.  Vatanen's puck-moving ability would fit in well with their up-tempo structure but fitting his contract in will be difficult and would require moving some money out.  Washington's in a similar situation – finding an upgrade for their second pairing which Vatanen would represent would be ideal but they'd need New Jersey to retain half and perhaps still move a bit of money out to leave themselves with some flexibility.
Out West, Vegas is seeking defensive improvements but their preference has been to look for players either signed beyond the season or willing to sign an extension.  Vatanen would be an interesting fit for them but they would likely need to clear out Cody Eakin's expiring contract as part of the deal.  With Dustin Byfuglien now not likely coming back this season, Winnipeg can now get into the trade market and Vatanen would serve as a reasonable upgrade on their right side.  Dallas is the top defensive team in the league but their depth on the right side of their back end isn't the strongest.  If they can't land a forward upgrade, it wouldn't be surprising to see them look this way and try to upgrade a team strength instead.
Likelihood Of A Trade
In a perfect world, New Jersey probably wants to keep Vatanen around as he's still young enough to be a part of their next core group.  However, there's little incentive for him to take himself off the open market early and with Fitzgerald serving as interim GM, there's no guarantee that he'd have the ability to offer the type of extension it would take to get something done.  As a result, it's quite likely that Vatanen will have a new home when the clock strikes on the trade deadline later this month.
Photo courtesy of USA Today Sports Images.