With the trade deadline now less than a month away, we will be taking a closer look at the situation for each team over the coming weeks.  Where do they stand, what do they need to do, and what assets do they have to fill those needs?  Next up is a look at the Florida Panthers
In Joel Quenneville's first season as head coach of the Florida Panthers, the team is looking to do something for just the sixth time in franchise history: make the playoffs. Yes, in their 25 years of existence the Panthers have made the playoffs just a handful of times, only once even progressing past the first round. That only deep run was more than two decades ago, meaning a good showing in this year's postseason tournament could be historic. With that in mind, you can bet that GM Dale Tallon is working the phones making sure his club has the best chance he can give them down the stretch.
Record
29-18-6, third in the Atlantic Division
Deadline Status
Buyer*
*The Panthers also have some intriguing rentals that could be available
Deadline Cap Space
$141K in a full-season cap hit (using LTIR), 1/3 used salary cap retention slots, 45/50 contracts per CapFriendly
Upcoming Draft Picks
2020: FLA 1st, FLA 2nd, FLA 2nd, COL 3rd, FLA 4th, TOR 5th, BUF 6th, FLA 7th
2021: FLA 1st, FLA 2nd, FLA 3rd, FLA 4th, FLA 5th, FLA 6th, FLA 7th, WPG 7th
Trade Chips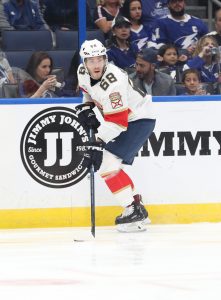 Even though the Panthers are in a strong position in the standings and will likely try to add before the deadline, they also may end up being a place for other contenders to do some shopping. Most notable is Mike Hoffman, who is an unrestricted free agent at the end of the season and was asked to submit his 10-team no-trade list in December, according to Pierre LeBrun of The Athletic (subscription required).
Hoffman is exactly the kind of mercenary winger that could add immediate offense at the deadline and if the Panthers were out of the running there would likely be a bidding war for his services. Whether they will decide to move him is unclear, but given how tight their cap situation is, they would have to move something out if they want to make a substantial change.
Of course, there is also the other pending UFA Evgenii Dadonov, but there has been less chatter about his potential availability over the recent weeks. Brian Boyle and Mark Pysyk are also on expiring deals, though they hold much less value.
The Panthers do have a long list of exciting forward prospects that could be dangled, including Henrik Borgstrom who still hasn't adjusted to professional hockey as quickly as many expected. The 23rd overall pick in 2016 had 18 points in 50 games for the Panthers last season, but has spent the vast majority of 2019-20 in the minor leagues.
Five Players To Watch For: F Mike Hoffman, F Brian Boyle, D Mark Pysyk, F Henrik Borgstrom, D Mike Matheson
Team Needs
1) Veteran Defense: Tallon was quite clear when speaking with Mike Zeisberger of NHL.com recently, explaining that he wanted a veteran defenseman to pair with Aaron Ekblad. After losing badly to the Vegas Golden Knights last night, Ekblad skated beside Keith Yandle at practice today while Matheson was dropped to the third pairing (via George Richards of The Athletic).
2) Experienced Forward: In the same interview, Tallon also said he will try to find a "steadying influence" up front, though it's not clear exactly what that term represents. Perhaps it's someone with a little more playoff experience that can be added to the top-six mix if Hoffman is sent packing. Aleksander Barkov (6), Jonathan Huberdeau (6), Vincent Trocheck (2), Noel Acciari (35), Frank Vatrano (6) and Dadonov (0), the six forwards averaging the most ice time (not counting Hoffman), currently have 55 games of playoff experience between them.
Photo courtesy of USA Today Sports Images.