With the trade deadline now less than a month away, we will be taking a closer look at the situation for each team over the coming weeks.  Where do they stand, what do they need to do, and what assets do they have to fill those needs?  Next up is a look at the Calgary Flames.
It has been an interesting first half of the season in Calgary.  Their big offseason trade (James Neal for Milan Lucic) hasn't really worked out, their top line has sputtered offensively, and there was plenty of off-ice controversy surrounding head coach Bill Peters which eventually led to him leaving the team.  Despite that, they sit one point out of first place and after freeing up some cap space with the recent trade of Michael Frolik to Buffalo, they're likely to be heard from between now and next month's trade deadline.
Record
26-19-5, tied for second in the Pacific Division
Deadline Status
Buyer
Deadline Cap Space
$4.791MM in a full-season cap hit (using LTIR), 0/3 used salary cap retention slots, 44/50 contracts per CapFriendly
Upcoming Draft Picks
2020: CGY 1st, CGY 2nd, CGY 3rd, EDM 3rd*, SJ 4th, CGY 5th, CGY 6th, CGY 7th
2021: CGY 1st, CGY 2nd, CGY 3rd, CGY 4th, CGY 5th, CGY 6th, CGY 7th
*- Calgary will receive Edmonton's third-round pick as part of the Neal/Lucic swap if Neal scores 21 or more goals and Lucic has at least ten goals less than him at the end of the season.  Neal is currently at 19 so he will likely get to 21 while Lucic is at four goals.
Trade Chips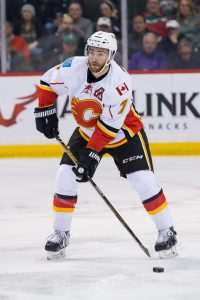 While teams looking to contend don't typically subtract an impact player from their roster, it certainly seems like that could be the case with defenseman T.J. Brodie who is believed to be available going back to the summer.  The pending UFA doesn't appear to have a place with Calgary beyond this season and while he'd certainly give their playoff hopes a push, he'd also garner a strong return in a trade as well.  This wouldn't be a typical 'sell a rental for a pick or prospect' situation but rather dealing from one hole to fill another.  They're known to be looking for another forward in the hopes of replacing Frolik with someone that's more productive offensively and Brodie could be the player that yields that type of return.
Center Mark Jankowski has had an abysmal season with just a single goal and assist in 39 games.  Instead of looking like a future core player, he could be a non-tender candidate in July with a $1.75MM qualifying offer.  If they're leaning in that direction, they'd be wise to try to get something for him now and there may be a rebuilding team that's willing to take a cheap flier on him.  Austin Czarnik, a pending UFA, has been productive with AHL Stockton and if he's unlikely to get another look with the Flames after he cleared waivers earlier in the year, he's someone that another team may want to give a chance to down the stretch.  Sam Bennett has been in trade speculation for years but unless they're getting someone that's signed for a few more years, he isn't a strong candidate to be moved at this time.
In terms of prospects, center Ilya Nikolayev has seen his stock rise this season and teams are always looking for depth down the middle.  Winger Dmitri Zavgorodny has been dominant when healthy in the QMJHL this season and is already signed.  Blueliner Alexander Yelesin drew interest from several teams last year as a free agent and with him not getting any NHL action yet, those teams may circle back.  With four minor league goalies all eligible for restricted free agency next season, they may be willing to part with one of those to clear the logjam.  Jon Gillies and his one-way deal may be the one they want to move but Russian rookie Artyom Zagidulin will likely draw more interest.
Five Players To Watch For: D T.J. Brodie, F Austin Czarnik, F Mark Jankowski, F Ilya Nikolayev, W Dmitri Zavgorodny
Team Needs
1) Scoring Help: Of the top-55 forwards in the league in terms of points this year, Calgary doesn't have any of them.  Their big four up front all range from 36-38 points and while that's not terrible, they're getting paid to produce more.  Obviously, Johnny Gaudreau and Sean Monahan getting back to last year's form would be ideal but they may need a new running mate to help them get there.  GM Brad Treliving is known to prefer someone with term over a rental player but the price tag to acquire such a player is going to be high.
2) Defensive Depth: With Juuso Valimaki on LTIR, there's already a need to have another blueliner that's at least capable of playing some minutes on the third pairing.  If Brodie does wind up being dealt, that opens up another vacancy.  Yelesin is the top recall option in the minors and he's a question mark having had no NHL experience.  Adding another player with some NHL experience for Stockton would be ideal on top of adding another depth defender like they did with Oscar Fantenberg at the deadline last season.
Photo courtesy of USA Today Sports Images.