With the trade deadline now less than a month away, we will be taking a closer look at the situation for each team over the coming weeks.  Where do they stand, what do they need to do, and what assets do they have to fill those needs?  Next up is a look at the Buffalo Sabres.
After another incredible start, the Sabres have struggled to score goals and are slipping further and further away from an Atlantic Division playoff spot. They've already completed one deal to bring in some help at forward by acquiring Michael Frolik, but may well need another boost if they want to compete in the postseason tournament.
Record
22-20-7, tied for fifth in the Atlantic Division
Deadline Status
Buyer
Deadline Cap Space
$2.57MM in a full-season cap hit (using LTIR), 0/3 used salary cap retention slots, 45/50 contracts per CapFriendly
Upcoming Draft Picks
2020: BUF 1st, BUF 2nd, BUF 4th, BUF 5th, BUF 7th, DAL 7th
2021: BUF 1st, BUF 2nd, BUF 4th, BUF 5th, BUF 6th, BUF 7th
Trade Chips
The Sabres have a glut of NHL defensemen on the roster even after selling off Marco Scandella for a fourth-round pick and would like to move out some of that surplus to add more speed and offense up front. The problem is that many of the options on the blue line don't come with a ton of trade value, unless you're looking at one of the team's young core pieces.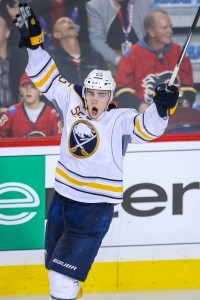 Zach Bogosian has already requested a trade when he was healthy scratched by head coach Ralph Krueger, but with his $5.14MM cap hit it is hard to see him actually bringing back anything for the Sabres. Colin Miller and Jake McCabe each hold a little more value than that, but Rasmus Ristolainen likely remains the biggest piece the team could potentially move.
Ristolainen has many detractors, but is still logging close to 23 minutes for the Sabres and has 23 points in 49 games. The 25-year old is also carrying a positive +/- rating for the first time in his career, and is a right-handed option that teams may see as an upgrade in the top four. Unfortunately, he comes with a $5.4MM cap hit and two more years on his contract, making him a tough player to add midseason.
Beyond the defensive group, the Sabres also received a trade request from Evan Rodrigues and they do have plenty of other expiring forward contracts that could be moved. It seems unlikely that the team would give up someone like Casey Mittelstadt even though he has struggled at the NHL level.
The team has its first-round pick for this year and next, but with the playoffs a clear uncertainty any deal would likely have to have lottery protection in it.
Five Players To Watch For: D Zach Bogosian, D Jake McCabe, D Colin Miller, D Rasmus Ristolainen, F Evan Rodrigues
Team Needs
1) Scoring Punch: The team will get Jeff Skinner back in the lineup tonight for the first time since December, but if he can't reach the same level that he showed last season the Sabres will desperately need to add some finish before the deadline. Skinner has just 11 goals in 39 games after scoring 40 last season. Victor Olofsson, the team's goal-scoring rookie, is still a few weeks away from a return. Players like Marcus Johansson, Jimmy Vesey, Conor Sheary and Kyle Okposo just aren't putting the puck in the net enough at this point for the team to reliably create an offensive push behind Jack Eichel.
2) Speed Up Front: GM Jason Botterill was very clear when he spoke with reporters on Tuesday; he needs to find some help at forward. Botterill explained that he needed not just offensive scoring touch, but an upgrade to the overall speed at forward. A name like Chris Kreider obviously brings that kind of impact, but it's not clear if Botterill wants to head down the rental road.
Photo courtesy of USA Today Sports Images.