As the holiday season approaches, PHR will take a look at what teams are thankful for as the season heads past the one-quarter mark. There also might be a few things your team would like down the road. We'll examine what's gone well in the early going and what could improve as the season rolls on for the Colorado Avalanche.
What are the Avalanche most thankful for?
There aren't many teams that can stake a claim to the notion that they have the best line in the league.  Colorado's top unit of Gabriel Landeskog, Nathan MacKinnon, and Mikko Rantanen are certainly in that conversation though.  MacKinnon has blossomed into one of the top scorers in the NHL (he's currently third in league scoring) and is on one of the top value contracts in the league at $6.3MM for three years after this one.  Rantanen is continuing to play at a better than a point per game level for the third straight season and is locked up long term.  Landeskog gives the unit a bit of grit with some scoring touch as well and is signed for another year.  There are nights where this trio is unstoppable which has helped keep the Avs within striking distance of top spot in the Western Conference.
Who are the Avalanche most thankful for?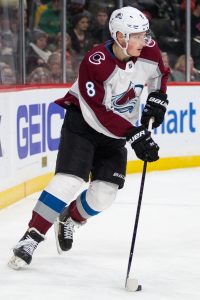 It would be really easy to pick MacKinnon here.  He's a top player in the league and is on a team-friendly deal.  However, they also have a Calder Trophy contender that could also be in the mix for the Norris Trophy in Cale Makar who has taken the league by storm in his first full season.  He's averaging nearly a point per game while logging over 20 minutes a night; both of those are particularly impressive for a first-year defender.  The sky appears to be the limit when it comes to his upside.
They're also extremely thankful for the restrictions on entry-level contracts which allows his cap hit to check in at less than $900K (plus some bonuses of which the 'A' level ones are likely to be hit).  As a result of his price tag that is way below market value, Colorado sits near the top of the league in cap space which will allow them to be aggressive in trying to add top talent to this group for this season and next until Makar's deal expires.  Makar may be a rookie but he brings a lot to this team.
What would the Avalanche be even more thankful for?
Some more proven defensive depth.  They have some quality prospects in the system with Bowen Byram and Conor Timmins but they are vulnerable to being hit by the injury bug if some injuries strike on their back end.  Erik Johnson is currently injured and as a result, they're going with more of a committee approach but that group could stand to be improved.
An impact top-four defender would make a huge difference but even a veteran third pairing option or two would go a long way towards slotting players like Mark Barberio and Calle Rosen in more ideal spots on the depth chart.  Defense matters in the playoffs and that's an area that GM Joe Sakic may want to address.
What should be on the Avalanche's Holiday Wish List?
Beyond the defensive help, Colorado can afford to try to swing big on the trade market.  They're a popular speculative destination for Taylor Hall which would really bolster their second line and take some pressure off the MacKinnon group.  One more star would really vault them into contention and they have the prospect pool to deal from to make something happen.  They'll be a team to watch for in the coming months.
Photo courtesy of USA Today Sports Images.