As the holiday season approaches, PHR will take a look at what teams are thankful for as the season heads past the one-quarter mark. There also might be a few things your team would like down the road. We'll examine what's gone well in the early going and what could improve as the season rolls on for the Boston Bruins.
What are the Bruins most thankful for?
While you need more than one line to carry a team, the trio referred to by some as the 'Perfection Line' has given Boston enough firepower to win some games even when the rest of the team isn't contributing much.  Wingers Brad Marchand and David Pastrnak are on pace to push for 130 points which would obliterate their previous career highs and currently has them third and fourth in league scoring.  Meanwhile, center Patrice Bergeron is 'only' averaging 1.14 points per game, a 101-point pace over a full season (although he is currently out with a lower-body injury).  Combined, the trio has collected 50 goals in 26 games which accounts for over half of their total on the season.  That type of firepower is tough to sustain but given how effective this unit was last year, they could be capable of maintaining this.
Who are the Bruins most thankful for?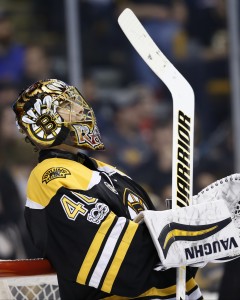 Rather than just repeating the above, Boston is also quite thankful for their goalie tandem of Tuukka Rask and Jaroslav Halak.  Rask has struggled in the past with higher workloads which is why Halak was brought in two summers ago and it's hard to argue with the results.  Rask didn't wear down as the playoffs went along and posted stellar numbers as they reached the Stanley Cup Final and is off to a very strong start this season as well.  Halak, meanwhile, posted his best save percentage in seven seasons last year and is on track to improve upon that this season.  Despite a litany of injuries on the back end, the Bruins have allowed the third-fewest goals in the league largely thanks to top-notch goaltending on a nightly basis.
What would the Bruins be even more thankful for?
An end to the seemingly-annual tradition of trying to chase down secondary scoring when their internal options don't produce enough.  The Bruins have afforded ample opportunities to their younger players in recent years but the results have largely been sporadic and have resulted in too much pressure being put on their top line.  The acquisition of Charlie Coyle was supposed to help solve that and while he has helped, it's still an issue.  Regardless, they like what he's provided as he signed a six-year extension earlier in the week.  Even with him in the fold though, they need someone else to pick it up or GM Don Sweeney will once again be searching for a middle-six winger with some scoring tough between now and the trade deadline.
What should be on the Bruins' Holiday Wish List?
Beyond that scoring winger, Boston is going to be hoping for an influx of spending around the league to yield a higher salary cap for next season.  The Bruins already have more than $65MM in commitments to 15 players for next season with blueliner Torey Krug in line for a sizable raise while Halak will need a new deal as well.  A bigger increase in the salary cap will be needed to keep this group intact so their Holiday Wish List likely consists of many fans around the league getting whatever is on their Holiday Wish List with the associated boost in HRR increasing the jump in the Upper Limit for 2020-21 to give them a better chance of keeping the core together.
Photo courtesy of USA Today Sports Images.