The Nashville Predators are one of a handful of teams in the NHL that were expected to be Stanley Cup contenders this season but are struggling to even string two wins together. The team is now on a five-game losing streak that includes blowout losses against the Colorado Avalanche (9-4) and Chicago Blackhawks (7-2), both division rivals ahead of them in the standings.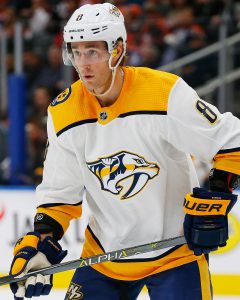 Just like the other teams making changes to try and spark their clubs, the Predators decided to make Kyle Turris and his $6MM cap hit a healthy scratch on Tuesday against the Winnipeg Jets. Turris will sit out again tonight when the Predators take on the Vancouver Canucks for the second time in four games, with Mathieu Olivier staying in the lineup on the fourth line.
It was Turris who was labeled as a potential difference maker for the Predators when they acquired him just two years ago. Nashville GM David Poile got involved in a three-way trade that saw Matt Duchene go from Colorado to Ottawa, flipping young defenseman Samuel Girard and forward prospect Vladislav Kamenev to the Avalanche in the process. Turris immediately signed a six-year, $36MM contract extension with the Predators and was set to become the team's long-term answer in the middle of their second line.
Turris had after all just posted a 27-goal campaign with the Senators and was off to a quick start in the 2017-18 season. After arriving in Nashville things went well for a while—the veteran center had 17 points in his first 17 games as a Predator—but by the time the playoffs rolled around his ice time had already been reduced. Turris averaged fewer than 16 minutes a night in the 2018 postseason, a sign of things to come.
Last season was an absolute disaster, with just seven goals and 23 points to his name in an injury-shortened campaign. This season even when he does play, Turris' ice time has been extremely limited and his responsibility almost completely removed.
Who has filled that second-line center role that Turris was penciled into when he arrived? Well it's none other than Duchene, who arrived in Nashville through free agency less than two years after the Predators were involved in that three-way trade. Duchene was given a huge contract in the summer to be the running mate down the middle for Ryan Johansen, as Poile and head coach Peter Laviolette decided that Turris wasn't cutting it.
Scratching such a hefty contract for two straight games is a clear sign that the Predators are ready to move on. Turris' name has been out there in trade speculation for some time, but getting any sort of value back at this point seems impossible for Nashville. With four more years (after this one) at a $6MM cap hit, Turris is just too expensive for most teams to take on, especially not knowing exactly what he can offer them right now.
Photo courtesy of USA Today Sports Images