Topics in this edition of the PHR Mailbag include what's next for the Rangers, potential early moves for the Islanders, coaches on the hot seat, the situation on Winnipeg's back end, and what type of impact a pair of top youngsters could have on the Flyers this season.  If your question doesn't appear here, watch for it in next week's mailbag.
@MikeyBGoode27: Any noise on the #NYRangers making another move after Vladdy was traded to Ottawa?
met man: Do the Rangers still move Kreider now that Namestnikov has been traded? What is their current salary cap situation?
I don't expect to see anything from the Rangers for a little while on the trade front.  The Vladislav Namestnikov trade gives them ample cap space to work with (more than $4MM) in terms of having money for injury recalls and performance bonuses of which there are a lot of given the youth on the roster.  At this point, the only swaps that may be coming would be shuffling young players back and forth with AHL Hartford.  Beyond that, they can afford to wait to see how the next few months play out to see what type of moves they'll be looking to make closer to the trade deadline.
I don't think the Namestnikov trade has anything to do with Chris Kreider's future in New York.  Namestnikov has an expiring contract so it's not as if moving him out frees up extra cap room for Kreider's extension.  The first thing they need to figure out is how much his next deal is going to cost; that amount should come in a fair bit higher than his current $4.625MM AAV.  If it's feasible, then they'll just extend him and be done.  If it's not feasible or they can't agree, then it becomes a question of what's better – keeping him for a playoff push or selling him at the deadline.  Which route is more palatable will be determined by their position in the standings a few months from now.
nk: It's only 3 games but the Isles are inconsistent at best and bad at worst. A lifeless effort against Edmonton followed an excellent performance against Winnipeg which followed a sluggish performance to open the season vs Washington. All at home. How long will Lou wait to shake things up? He has the cap space to bring in a high valued top-6 forward and 7 goals in 3 games isn't going to cut it especially if Varlamov plays this poorly.
While Lamoriello has made some sudden moves in the past, he has always believed in being as deliberate as possible.  The phrase 'if you have time, use it' is largely attributed to him so I don't think he's going to make a quick move based on a so-so start.
The first few weeks of the season are going to be for evaluation.  That goes for pretty much every team in the league, not just the Islanders.  But for New York specifically, how ready for full-time duty are the youngsters like Devon Toews and Noah Dobson?  What type of start does Sebastian Aho get off to in Bridgeport?  If Lamoriello is confident in that group, then perhaps someone like Nick Leddy becomes expendable to bring in top-six help.
The Islanders were one of the biggest surprises in the league last season so they've earned the benefit of the doubt early on.  For now, the only move that may be on the horizon is something involving Josh Ho-Sang as it's hard to see that situation dragging out much longer.  If they can't find a trade in the next week or so, he may wind up having to report to the Sound Tigers just to show he's still in playing condition.
CHRISJENJ: Any coaches on the hot seat so far in this young season? Maybe John Hynes? Possibly Peter DeBoer? Now don't get me wrong, I think DeBoer is a great coach and even though we are so early into the season (only a week) isn't it somewhat alarming the way the Sharks are playing? They are a perennial playoff team but just can't seem to get over the last hurdle. Do you think a coaching change might be in order if they don't make it to the promised land this season, let alone start playing better?
@dennybruute: Devils firing Coach?
With New Jersey getting two mentions, let's look at Hynes first.  Hynes is now four games into a multi-year contract extension that was signed in January.  He has been tasked with integrating several new core players, two of which had never played in the NHL before a week and a half ago.  With those two factors, I'd be shocked if Hynes was in jeopardy of losing his job this quickly.  If they're still struggling badly six weeks from now, I probably would have a different answer for you but for now, I don't see a coaching change happening there.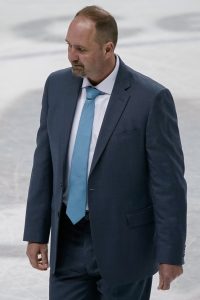 The answer is different when it comes to San Jose, however.  They are a veteran-laden team in win-now mode and they haven't gotten off to a strong start this season.  Patrick Marleau will help them but he alone won't turn their fortunes around.  The Sharks don't have the luxury of having ample cap room to try to shake things up either; they had to waive a player to fit Marleau's league minimum salary on their books.  If they have to recall anyone due to injury, they're in trouble when it comes to cap compliance.  As a result, they basically only have one card they can play if they want to shake things up and that's a coaching change.  I still think it's a bit early but if this carries on for another couple of weeks, replacing Peter DeBoer could become a realistic possibility.
While coaching changes can make a difference (see St. Louis last season), more often than not they don't really help all that much in the end.  With that in mind, other than potentially DeBoer if San Jose doesn't start winning sooner than later, I don't expect to see much activity on the coaching front for a while.
JDGoat: Who are potential targets the Jets might be looking at who could be available already to upgrade their D?
In the short-term, Winnipeg can't really afford to do much of anything.  While Dustin Byfuglien's $7.6MM AAV is currently off their books due to his suspension, they have to basically encumber that money if he decides to return.  Considering they sit under the cap by an amount less than Byfuglien's cap hit, they can't do much of anything for now as a result as if Byfuglien does decide to come back in the next couple of weeks, they'd be over the cap and scrambling to get back under.
There also aren't a whole lot of players that are available.  Rasmus Ristolainen has been a popular speculative target for a lot of teams so he'd undoubtedly be in the mix.  Leddy, if he's made available, would probably get their attention as well.  Julius Honka is available but he's not really going to move the needle for them.  I'm sure there are other depth options available as well but Winnipeg already has depth pieces of their own to work with.
There's a reason that the trade market is slow in the early going as teams want to see what they have, what they need, and what they can afford to part with.  Winnipeg knows what they need but teams are hesitant to part with blueliners this early in the season so they're going to have to wait.  Once other teams get a sense of where they are (in other words, who might sell), the Jets should have banked enough cap room that they could afford to bring another player in and bring Byfuglien back as they're banking a lot of space on a daily basis.  They'll have to stick with what they have until then which may be a couple of months from now.
DarkSide830: Even with lesser regarded guys like Bunnaman and Twarynski on the roster the Flyers have done well these first two games (albeit against two teams that aren't exactly the cream of the crop). Once Farabee and Frost are ready, what is the ceiling for the team this year?
I'm not inclined to think Joel Farabee and Morgan Frost will make a significant difference this season with Philadelphia.  Part of the reason that they're in the minors is that they're the better prospects; they're content with having Carson Twarynski and Connor Bunnaman in limited roles so that their top ones can get more playing time.  Unless a bunch of injuries strike, Farabee and Frost should be spending more time with Lehigh Valley than they do with the Flyers.
Yes, Carter Hart came up as a rookie partway through last season and really changed their fortunes.  That's not common for a first-year pro so fans shouldn't be counting on it to happen again, especially with forwards that don't impact the game as much as a goalie does.
As for their ceiling, I think they can be a playoff team.  In the last mailbag, I had them as the third seed in the Metropolitan Division and with it, a guaranteed postseason position.  Guys like Farabee and Frost give them some potentially strong injury recall options but I'd be surprised if either of them plays a significant role in 2019-20.
Photo courtesy of USA Today Sports Images.