Topics in this edition of the PHR Mailbag include waiver candidates, the remaining restricted free agents, Toronto's salary cap situation, the Justin Faulk trade, forecasting the Metropolitan Division, and whether or not a top prospect will stick with Vegas for the full season.
JDGoat: Is there any obvious high upside guys who are at risk of being put on waivers in the next week?
High upside players usually don't get waived as there is typically a trade market for those players.  I'd go as far as suggesting some medium upside players could be waived though.
For me, the goalie market is the one to watch.  Is Washington going to waive Pheonix Copley for cap purposes and go with a prospect as the backup instead?  Copley's first full NHL season was decent enough that he could get some attention.  Pittsburgh is in a similar boat with Casey DeSmith and Tristan Jarry.  I have a hard time thinking one of them would get through waivers unclaimed but it's going to be hard for them to keep all three around so if a trade doesn't materialize, one of them will probably hit the wire.  Charlie Lindgren (Montreal) and Eric Comrie (Winnipeg) are others in this category as well.
In terms of skaters, the upside isn't going to be quite as high.  It's possible that one or two could turn into useful players elsewhere but the quality isn't as good.  Charles Hudon (Montreal) is two years removed from a 30-point season but appears to be on the outside looking in.  The Islanders are going to have to cut a forward or two so someone like Tom Kuhnhackl could help a fourth line.  Vancouver needs to trim some forwards but they're going to be fourth line types as well.  There don't appear to be any defensemen of note that will hit the wire either.  If you're looking for upside on waivers, it's going to pretty much be only goalies that fit that bill.
Gerald Arrington: Rantanen
Laine
Connor
Honka
Remaining RFA's left who signs who don't?
Patrik Laine signed after this question was posed so we can cross him off the list.  Of the group, the only one that's really at a risk of not signing is Dallas defenseman Julius Honka.  At some point, if he doesn't get traded, he may decide to go play overseas for the season rather than returning to being a healthy scratch with the Stars.  Considering he won't be getting much more than his qualifying offer of just over $874K, he probably wouldn't be leaving much money on the table either.  Kyle Connor and Mikko Rantanen may leak out over to the start of the season but they'll get deals done.
coachdit: My question is complex, what's more likely, Rantanen giving in to stay in the NHL, or saying forget the NHL and play at 50% off in Finland and take advantage of that countries tax haven? Or both and he should be viewed by Avs fans as a midseason upgrade vs trading something for the upgrade at the deadline. Does the risk outweigh the cap savings?  Or vice versa and the cap hit outweighs the risk?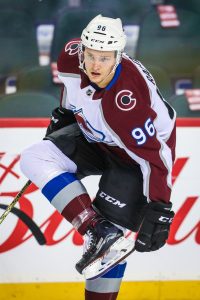 I know it's out there that he had a roughly $4MM offer in the KHL but even with the difference in tax situations, he'd be leaving a lot of money on the table to play overseas so it's not really a viable option for him.  Even if this takes all the way to the December 1st deadline which would result in a higher cap hit than the AAV for this season, Colorado has the ability to absorb that and still sit comfortably under the cap so there's minimal risk from that perspective.  There's risk in having a high-end forward missing nearly two months of course and whether or not it goes that far depends on how insistent his side is in terms of trying to get a comparable deal to Mitch Marner.  Regardless of when he signs though, the Avs should have more than enough cap room to add someone at the deadline beyond Rantanen so they shouldn't be interpreting him as their big midseason pickup.
M34: Toronto cap situation.
I'm not really sure how much I'm missing here…
They are well over the 10% off-season grace.
They have at least $13MM over the cap after the Marner signing.
From what I gather, they are going to be cap compliant by the start of the season because of LTIR.
So I guess my question is:
Does the $94+mm current cap hit not justify some type of league punishment by the letter of the law?
I've read (not an expert by any means) that there are potential league judgements that can be levied against teams and even players individual stats based on an organizations failure to comply to league statutes, even during the offseason.
Long question needs a long answer, but can you sum it up in layman's terms?
I don't know if this really requires too long of an answer but here's what I believe is happening:
When Marner signed, one of David Clarkson or Nathan Horton was placed on LTIR (and yes, that does exist in the offseason).  That got them back under the 10% offseason overage threshold so there's no league punishment forthcoming for being over that limit; they would have rejected Marner's contract if it put them over.  Once the season starts, the other of Clarkson or Horton will go on LTIR as well as Zach Hyman and Travis Dermott who are both expected to miss a little more than the minimum three weeks.  Depending on how they fill out their roster, they should be in compliance to start the season.  Things may get a little trickier when they both return but that's a problem for a month from now.  In the meantime, expect to see a few Toronto players making frequent appearances in our Minor Transactions posts throughout the season as they're shuffled back and forth to save a bit of cap room.
Paul Heyman: What did you think of the Blues trade for Faulk?
I'm not a huge fan of it, to be honest.  Yes, Faulk is an upgrade on Joel Edmundson (who I think will do well with Carolina) but parting with Dominik Bokk, a pretty good prospect, seems like a bit much to add.  I also don't love the extension (which is what made it more justifiable to part with Bokk from their perspective).  The last couple of years of that deal won't look pretty and if this winds up pushing Alex Pietrangelo out the door, this could really have some longer-term consequences.  If it doesn't, then they're paying big money to three right-shot defensemen and there's some risk with that when it comes to keeping all three happy and in terms of cap management as well.  St. Louis is a better team this season as a result of the trade and that's certainly worth something but the potential long-term ramifications concern me a bit.
acarneglia: What do the final Metro division standings look like?
They're going to be quite jumbled as there really isn't a clear-cut top team out there and there are a lot of teams that can be in the mix.  I can see the gap between finishing first and missing the playoffs outright only being a few victories which will make it really interesting to follow.  Here's a really quick prediction:
1) Washington – They're in trouble if injuries strike with minimal depth and cap space but their proven core remains intact.
2) Carolina – I'm still not completely sold on them and I wouldn't be shocked if they took a step back but they've earned the benefit of the doubt and have made some incremental improvements to a young, developing core.
3) Philadelphia – A full season from Carter Hart will help and while Kevin Hayes' contract is a big one and will be ugly down the road, he'll certainly help them this season.  I expect Ivan Provorov to bounce back as well.
4) Pittsburgh – Like Washington, they're really vulnerable to injuries with so little cap room and their depth has been thinned out a bit more.  They were a bubble team last year and I think they'll be one again though a full year from Justin Schultz will really help.
5) New Jersey – A now-healthy Cory Schneider will give them a boost, as will a full season from Taylor Hall.  They've added impact players and their depth is much-improved.  It's not a flawless roster but they'll be heard from this season.
6) NY Rangers – Their offense is much-improved and Jacob Trouba gives them a legitimate top pairing player.  However, they have a lot of young core pieces up front and they probably will develop at different rates which could hurt them a bit this season.
7) NY Islanders – I'm not sold that Semyon Varlamov can replicate Robin Lehner's performance last season and teams may be better prepared to exploit their defensive structure after seeing it over a full season.  Having said that, I don't think they'll miss by much.
8) Columbus – They'll be more competitive than it may seem on the surface but this is a rebuilding year.  Their goaltending will be quite intriguing.
CHRISJENJ: As of now which team is better built for the future? Rangers or Devils? Which team will have more success five years from now?
Let's go at this by position, starting in goal.  With Alexandar Georgiev and Igor Shesterkin, the Rangers have a couple of young goalies that they hope have number one potential.  The Devils feel the same way about Mackenzie Blackwood while Gilles Senn had a nice run with Davos but I'm not sure he's at the level of the others.  I'll take New York's options here.
On defense, New Jersey has a nice prospect in Ty Smith and I think Reilly Walsh has some NHL upside while it wouldn't be shocking to see at least one of Will Butcher or Damon Severson signed to another deal by then.  New York has Jacob Trouba and Brady Skjei signed for at least five years plus a few youngsters headlined by Adam Fox and K'Andre Miller, among others.  I think the Devils will have a different-looking back end by then which makes this tough to forecast five years down the road but with what each team has now, I'd go with the Rangers again.
Up front, Jack Hughes and Nico Hischier down the middle should be an enviable one-two punch.  Michael McLeod and Jesper Boqvist should be good players as well.  They don't have many other NHL players that are under team control at that time though so there's likely to be a bit of turnover.  Meanwhile, the Rangers have Artemi Panarin signed long-term plus Kaapo Kakko, Vitali Kravtsov, Filip Chytil, Lias Andersson, and Brett Howden all under team control through then.  There are more known commodities on the Rangers but that one-two center punch could be among the top ones in the league so I'd lean towards the Devils here even though there aren't many other players to really assess.
Overall, both teams are on an upward path but for five years down the road, I'd pick the Rangers as the better-positioned of the two but a whole lot can change between now and then.
@wakeMC: What are the chances Cody Glass is in Vegas opening line up to start the season and also remain there the whole year?
Fundamentally speaking, I'm not a fan of having a top forward prospect (especially a center) playing in a bottom-six NHL role and that's where he'd be in Vegas.  Yes, fourth lines play more than usual so it's not as if he'd be playing six minutes a night but if they view him as their number one of the future, he needs to get some time in offensive situations as well and that would come by spending time with AHL Chicago.
I think there's a decent chance he cracks the opening night lineup given how he has performed in training camp but eventually, they'll see that he'd be better off playing upwards of 20 minutes a night in all situations in the minors.  He'll probably also be papered to and from the minors a bit while up with the Golden Knights to save a bit of cap room.  Glass will see some NHL action this season but I'd be surprised if he spent the whole year with them.
Photo courtesy of USA Today Sports Images.