The 2019-20 season is now underway but several notable contract extensions helped steal the show in terms of headlines.  Here are the biggest stories from the past seven days.
Kane Suspended: An early headline came from the preseason as Sharks winger Evander Kane was suspended three games for abuse of an official in their final exhibition contest after he slashed a linesman.  While he was eligible to appeal, he'd have still had to sit out the games (unlike in other sports) so all that he would have been able to accomplish was getting back some of his forfeited salary.  San Jose had three games this past week so he'll be eligible to suit up for their next game on Tuesday against Nashville.
Kuemper Extension: Coyotes goaltender Darcy Kuemper had a strong showing in 2018-19 after being thrust into the number one role following the continued injury troubles for Antti Raanta.  He was rewarded for those efforts in the form of a two-year, $9MM extension; the $4.5MM AAV is quite the improvement on his current $1.85MM cap hit.  He's off to a strong start this season (once again subbing for an injured Raanta) with a .945 SV% through his first two starts.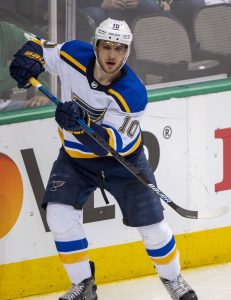 Eight For Schenn: Brayden Schenn saw his output dip considerably last season after a 70-point 2017-18 campaign but he was still an important part of the Blues' Stanley Cup run.  While he would have been one of the more sought after centers on the open market next July, he has instead decided to stick around for the long haul, inking an eight-year, $52MM contract that also carries no-trade protection.  The deal represents a nice raise on his current $5.25MM cap hit and unlike some of the other big contracts signed over the past year or so, there is no signing bonus money in the deal.  St. Louis will now turn their focus towards trying to get defenseman Alex Pietrangelo signed to a long-term contract extension though with over $75MM already committed for 2020-21, they will be hard-pressed to keep him in the fold without clearing out a notable contract before next season.
Ho-Sang Requests Trade: Things have not gone smoothly for Josh Ho-Sang with the Islanders.  He has yet to make much of an impact at the NHL level and after clearing waivers earlier in the week, he has asked for an opportunity to play elsewhere.  The 23-year-old has not reported to AHL Bridgeport while waiting for a trade although he has indicated that he's open to starting there after a move is made.  He's coming off a 43-point season with the Sound Tigers although the 2014 first-round pick has only scored eight goals in the minors in each of the last two seasons.
Bridge For DeBrincat: Several key young forwards have inked back-loaded short-term contracts in recent weeks to avoid a holdout lasting into the season.  While Blackhawks winger Alex DeBrincat still has one year remaining on his entry-level contract, he's decided to follow suit, signing a three-year, $19.2MM contract, one that will carry a $9MM qualifying offer at its expiration where he will be one year away from UFA eligibility with arbitration rights.  DeBrincat reached the 40-goal mark last season and is one of the better young scorers in the league already.  The deal gives the Blackhawks some cost certainty moving forward while setting the 21-year-old up for a really nice payday down the road.
Photo courtesy of USA Today Sports Images.