Just a day after claiming goaltender Eric Comrie off waivers, the Arizona Coyotes have locked up one of their other padded protectors. Darcy Kuemper has signed a two-year extension that will keep him from unrestricted free agency next summer and lock him up through the 2021-22 season. The deal carries an average annual value of $4.5MM. GM John Chayka released a short statement:
We are extremely pleased to sign Darcy to a two-year extension. Darcy had an incredible season last year and established himself as one of the NHL's best goaltenders. With Darcy and Antti [Raanta], we are confident that we have one of the best goaltending tandems in the League.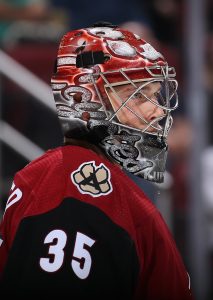 It's hard to argue with Chayka about Kuemper becoming one of the best goaltenders in the league, even if his stardom hasn't risen quite as high in hockey circles. The 29-year old posted a .925 save percentage through 55 games last season for the Coyotes after Raanta went down to injury, including an incredible .933 in 2019. Finishing fifth in Vezina Trophy voting, Kuemper actually recorded the same save percentage and a better goals against average than the eventual winner Andrei Vasilevskiy.
A $4.5MM cap hit puts Kuemper 17th among goaltenders in the NHL for next season, tied with Mikko Koskinen of the Edmonton Oilers and just ahead of Jordan Binnington's new deal with the St. Louis Blues. It also takes him just ahead of Raanta, who is under contract through the 2020-21 season at a $4.25MM hit. That duo has shown that they are more than capable of providing excellent goaltending for the Coyotes, but will need to stay healthy in order to get Arizona back to the playoffs.
For a team that has for so long been considered a cheap organization, the Coyotes already now have more than $80MM committed to 2020-21. While some of that is Marian Hossa's dead contract that will be covered by insurance and can be used as long-term injury relief if necessary, the team has also made substantial investments in their core pieces over the last few years. Kuemper will be considered part of that core now for the next few seasons.
Craig Morgan of The Athletic was first to report that a deal had been reached.