The St. Louis Blues have locked up a part of their core, signing Brayden Schenn to an eight-year extension. The deal will carry an average annual value of $6.5MM and keep Schenn in St. Louis through the 2027-28 season. CapFriendly gives us the full breakdown:
2020-21: $8.0MM
2021-22: $8.0MM
2022-23: $5.2MM
2023-24: $8.0MM
2024-25: $8.0MM
2025-26: $6.5MM
2026-27: $4.3MM
2027-28: $4.0MM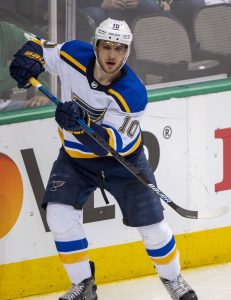 Schenn, 28, was one of two big names the Blues had scheduled for unrestricted free agency in the summer of 2020, alongside captain Alex Pietrangelo. After locking up their second-line center to a long-term deal, they'll now be able to put their full focus on the defenseman to try and keep him around. Pietrangelo's future was put into the spotlight after the team recently acquired and extended Justin Faulk from the Carolina Hurricanes, but there is obviously still plenty of time to get a deal worked out if the team can find the cap space.
That may be an issue after this new extension for Schenn, as the Blues now have close to $74MM in salary commitments for the 2020-21 season. A $6.5MM cap hit matches Faulk's new deal and puts Schenn ahead of everyone else not named Vladimir Tarasenko or Ryan O'Reilly, who are both signed through 2022-23 with $7.5MM average annual salaries.
Not only does this contract put the squeeze on the Blues front office in terms of cap dollars, it also brings with it a fair amount of risk given the age of Schenn when it will kick in. He'll turn 29 before ever playing a game on the new extension, meaning the deal will take him into his mid-thirties when most players enter a rapid decline phase. The trade for that was keeping the cap hit relatively low, especially after seeing other free agent centers like Kevin Hayes receive more than $7MM this summer. Schenn compares favorably to Hayes in terms of offensive production, especially if he can get back to the level he showed in 2017-18.
One of the biggest questions about the deal however will be whether Schenn stays at center throughout the length of the contract. The 2009 fifth-overall pick has rarely been a full-time pivot and moving to the wing does take away some of his value to the team. If his offensive totals don't rebound from the 17-goal disappointment last season and he is moved out of the center position, the $6.5MM could seem like an expensive price tag in a few years.
Still, the Blues just won the Stanley Cup on the backs of physical forwards like Schenn and they're banking on him being an impact player for a while longer. On their playoff run last season he scored 12 points and registered 83 hits in 26 games, buying in completely with head coach Craig Berube's system.