With the calendar having flipped to September, activity has picked up around the league with some retirements, big signings, and even a former MLB GM joining San Jose as a scout.  Here are the top stories around the league from the past seven days.
Gardiner To Carolina: It took two months longer than pretty much anyone expected but defenseman Jake Gardiner now has a contract for the upcoming season.  Where he landed came as a surprise as is the deal he wound up signing.  The veteran inked a four-year, $16.2MM contract with Carolina, a team that was already extremely deep on the back end.  On top of that, the $4.05MM AAV was considerably lower than most anticipated; it matches the one from his previous deal.  While his defensive warts are well-known, the depth the Hurricanes have means that they'll be able to use Gardiner in a bit more of a limited role which should wind up being a good thing for him.
Williams Steps Aside: Gardiner's deal couldn't have happened without the announcement from winger Justin Williams that he "taking a break" from hockey.  That's not to be considered as him retiring as he left the door open for a midseason return.  The Hurricanes wasted little time spending the money that was earmarked for him on Gardiner though, a move that puts them over the salary cap for now.  That will make it tricky to bring Williams back if he wants to come back later on.  If it does wind up being the end of the line for the 37-year-old, he'll finish up with an impressive 786 points in 1,244 regular season games plus another 101 postseason points in 155 contests.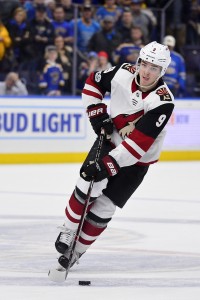 Eight Years For Keller: Clayton Keller's sophomore season saw him take a big step back offensively as his output dipped from 65 points down to 47.  Despite that, Coyotes GM John Chayka continued his trend of signing players to early extensions, agreeing to an eight-year deal that carries a $7.15MM AAV.  That will give the winger the highest cap hit among forwards when the contract kicks in for 2020-21.  Despite the dip in production, Keller should be the focal point of their attack for years to come and while the deal may be risky now, if his point total jumps while playing alongside new acquisition Phil Kessel this season, it's quite possible that the price tag would be higher a year from now.
Kronwall Retires: The Red Wings said they'd be patient when it came to a decision from veteran defenseman Niklas Kronwall on his plans for 2019-20.  Despite having a pretty good season in 2018-19 that saw him log over 20 minutes a game, the blueliner has called it a career and but will remain with the organization as an advisor to GM Steve Yzerman.  Kronwall spent his entire 15-year career with Detroit, playing in 953 games and contributing 432 points and many crushing hits.  The decision makes Detroit's decision to sign Patrik Nemeth earlier this summer that much more important as he'll effectively take Kronwall's spot on the roster.
Thornton Re-Signs: It took a while but Joe Thornton is once again a member of the Sharks, signing a one-year, $2MM contract.  Thornton had indicated earlier that he only wanted to return to San Jose so the fact he's sticking around is no surprise.  What is a bit of a surprise is the pay cut that he agreed to take, dropping from a $5MM salary to $2MM; the deal doesn't contain any bonuses either.  In doing so, the Sharks now have a little bit of salary cap flexibility as they look to round out their roster and keep a bit of space open for in-season acquisitions.
Photo courtesy of USA Today Sports Images.