The deal is finally official, and Joe Thornton is returning to San Jose. The Sharks have announced that Thornton will be back on a one-year deal, and Kevin Kurz of The Athletic reports it will be worth $2MM.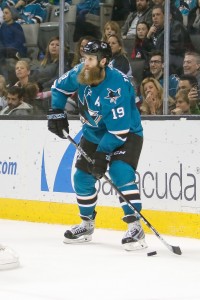 It never was in doubt, but now that it is official there is plenty of time to analyze the Sharks cap situation and see if there is room for another addition before the season begins. The team now projects to have just under $2.7MM in cap space and could potentially add another forward on a relatively inexpensive deal. For months there has been belief that Patrick Marleau would be that cheap forward, but the two sides both explained recently that there is not going to be a reunion for the franchise icon.
Not so when it comes to Thornton however, who returns for his 22nd NHL season and 15th with San Jose. The 40-year old continues to amaze with his incredible playmaking ability and is coming off a 51-point season (in just 73 games) in 2018-19. Thornton now has 1,478 points in his long illustrious career and could potentially pass Paul Coffey for 13th all-time with a strong season. It seems very likely that he will become just the 14th player in league history to amass 1,500 points, and will undoubtedly end up in the Hall of Fame after retirement.
Amazingly, even with all of his success Thornton has still not been able to raise the Stanley Cup during his career. A winner of the Art Ross, Hart Trophy, Olympic, World Cup and World Junior gold, and even a Swiss-league championship during the 2004-05 lockout, there is still one silver chalice that has stayed out of reach. By re-joining the Sharks for one more season he'll have a good shot at it once again as even without captain Joe Pavelski returning the San Jose roster is still filled with talent.
It's important to note that the contract does not include any performance bonuses, even though Thornton was eligible for them. That means the Sharks won't have to worry about any potential overages and can use their remaining cap space as they see fit. If that means a last-second addition before the season begins or a trade deadline acquisition, GM Doug Wilson would have had a plan before committing to Thornton. The veteran forward has been open all summer about how he would return for whatever the Sharks could afford and felt was reasonable, hoping to have another crack at the Cup next spring.
Photo courtesy of USA Today Sports Images