While the two sides were well apart in their arbitration filings yesterday, the Sabres announced that they have reached an agreement on a two-year contract with defenseman Jake McCabe.  The deal will carry a $2.85MM cap hit.  The contract falls a little bit below the midpoint of their filings; Buffalo had offered $1.95MM while McCabe's camp had countered with $4.3MM.  However, it's still a sizable increase over his previous $1.6MM AAV.
The 25-year-old has been a dependable second pairing player for Buffalo over the past few seasons.  However, he has had difficulty staying healthy the last couple of years as he missed 23 games last season and 29 in 2017-18 which certainly didn't help his cause.  When he has played, he has consistently logged between 19 and 20 minutes a night while providing some physicality and shot-blocking as well.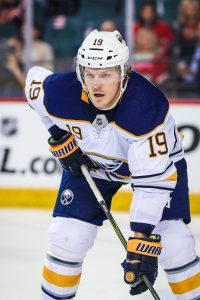 Interestingly, the deal takes McCabe to unrestricted free agency eligibility whereas going through arbitration for a one-year pact would have made him a restricted free agent next summer once again.  That may be part of the reason that McCabe took a deal that falls a bit below some of his comparables around the league.
GM Jason Botterill has done a lot of work reshaping Buffalo's back end in recent years and as a result, their blueline corps is all of a sudden among the more expensive groups in the league.  McCabe's contract means that the Sabres now have seven defenders making at least $2.25MM.  That group doesn't include 2018 top pick Rasmus Dahlin who is capped at a $925K base salary although his deal can reach $3.775MM if he maxes out on his performance bonuses.
All of a sudden, Buffalo appears to be in some salary cap trouble.  This deal now gives them a little over $81MM on commitments for next season which is just below the $81.5MM Upper Limit.  However, the team still needs to re-sign backup goalie Linus Ullmark (his arbitration award is expected to come down tomorrow) which will put them over the cap.  However, when Ullmark signs, they will be granted a second buyout window and it appears they may have to use it to get back into cap compliance.
Photo courtesy of USA Today Sports Images.