The Washington Capitals have been busy this offseason trying to find a way to improve their roster on the fringes without much financial flexibility. After signing core players like Evgeny Kuznetsov, T.J. Oshie, Dmitry Orlov, Tom Wilson and John Carlson to long-term contracts over the last few years the team has very little cap space to play with. Still, they found a way to fit a new contract for Jakub Vrana into the mix while adding players like Richard Panik for relatively little cost. Now with their group essentially set for the regular season, attention will have to turn to two other key members of the squad who are on expiring deals.
Nicklas Backstrom and Braden Holtby, arguably the two most important players to the franchise other that Alex Ovechkin over the last decade, are both entering their final years before unrestricted free agency. Speaking with Tom Gulitti of NHL.com, Capitals GM Brian MacLellan explained that the team will be opening discussions with both players in early September before training camp begins. While that doesn't mean deals will immediately get completed, Gulitti did point out that MacLellan didn't rule out signing at least one of them before the season begins in October.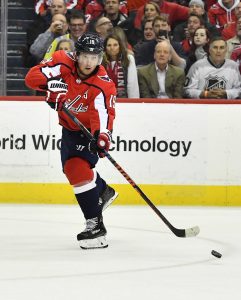 Though Backstrom has been somewhat in Ovechkin's shadow his entire career, there is little doubt that he has been one of the very best players in the game since entering the league in 2007. Over his 895-game career, the 31-year old Swede has 873 points and received votes for the Selke Trophy as one of the league's best defensive forwards nine different times. What Ovechkin brings every night in a goal scoring role, Backstrom has delivered through his deft playmaking, recording at least 50 assists in nine different seasons. His career-high came in 2009-10 when he put up 101 points including 66 at even-strength.
There is a case to be made that Backstrom will be Hall of Fame worthy when he finally hangs up his skates, something that would be even more meaningful if he plays his entire career with the Capitals. Currently carrying a $6.7MM cap hit however, he would likely need a raise on any extension.
Holtby on the other hand is in a bit of a different situation. The 29-year old goaltender has been outstanding over his nine-year career with the capitals, posting a single season save percentage under .911 just once throughout. A finalist for the Vezina Trophy in back-to-back seasons he took home the award in 2016 when he went 48-9-7 for the Capitals. Holtby already has more than 250 wins in his career and will climb into the top-50 all-time in that category this season. He too would surely welcome the chance to stay in Washington, but given the contract that Sergei Bobrovsky just secured on the open market one has to wonder whether the Capitals will be able to fit him in.
Seven years and $70MM took Bobrovsky—who is almost exactly a year older than Holtby, meaning they would be hitting the open market at the same age—to the Florida Panthers and set the market for the Capitals netminder. With Washington grooming top prospect Ilya Samsonov as a future NHL starter it might not make sense to make that kind of commitment to Holtby. Still, perhaps the veteran goaltender would welcome a short-term deal in order to stay in Washington and continue to compete at the highest level. There's no telling when Samsonov will be ready to take over (if ever), given his extremely limited sample in North America.
The Capitals do have a fair amount of money to use next season but have to consider that Ovechkin himself is only two years away from unrestricted free agency. When talks start with Holtby and Backstrom the team will get a better idea of where they stand and whether or not they are even in the same ballpark.
Photo courtesy of USA Today Sports Images