The Toronto Maple Leafs have acquired Tyson Barrie, Alexander Kerfoot and a 2020 sixth-round pick from the Colorado Avalanche in exchange for Nazem Kadri, Calle Rosen and a 2020 third-round selection. The Avalanche will also be retaining 50% of Barrie's contract, which results in the Maple Leafs only being responsible for a $2.75MM cap hit for the offensive defenseman.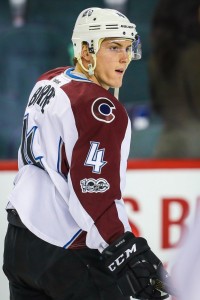 For some time now the Maple Leafs have been looking for an upgrade on the right side of their blue line, and will get it in Barrie who is coming off another incredible offensive season. The 27-year old had 14 goals and 59 points for the Avalanche and has been one of the league's top puck-movers since entering the league back in 2011-12. Through 484 career games, Barrie has 307 points and could form a solid one-two punch with Morgan Rielly who is also coming off a career-best 72-point season. The team now projects to have a brand new right side with Barrie joining Cody Ceci who was acquired from the Ottawa Senators earlier today.
The Leafs have actually cleared even more cap space with this deal for the time being, as Kadri had three years left on his contract and carried a $4.5MM hit. That may change quickly however as Kerfoot is a restricted free agent coming off consecutive 40+ point seasons after signing out of Harvard University. The 24-year old decided not to join the New Jersey Devils who originally drafted him and instead went to Colorado where he has enjoyed a healthy opportunity playing both center and wing. Kerfoot has recorded 31 of his 85 career points on the powerplay, but may not get quite the same chance to touch the puck in Toronto with the man advantage given their glut of talented forwards.
For Colorado, this deal is all about securing a legitimate second-line center to play behind Nathan MacKinnon. Though Kadri was limited to just 16 goals and 44 points last season with the Maple Leafs that was more about opportunity and usage than talent. The seventh-overall pick from 2009 had consecutive 32-goal seasons prior to Toronto's signing of John Tavares which bumped him down in the lineup, and he should get close to that again if given the chance in Colorado. The fact that he is cost-controlled for three more seasons at a more than reasonable $4.5MM makes him an extremely valuable piece for the Avalanche who have added a fair amount of scoring prowess in the last few days.
The biggest reason Barrie was even available is the way the Avalanche have built out their blue line, with names like Cale Makar, Bowen Byram and Conor Timmins all looking like they will be real contributors next season. The Maple Leafs meanwhile will hope that they can maintain some level of depth down the middle with the signings they made today, adding Jason Spezza and Nick Shore to the mix. William Nylander and Kerfoot also have experience at center, while Auston Matthews and John Tavares will obviously dominate the playing time and matchups.
Photo courtesy of USA Today Sports Images