Despite being the butt of many jokes for the past couple of seasons, the Ottawa Senators head into this offseason with some real opportunity. The team has just a single player—Bobby Ryan—under contract for more than two years and a huge number of draft picks to work with over the next several seasons. Putting the Erik Karlsson, Mark Stone and Matt Duchene situations behind him, GM Pierre Dorion can now go to work on rebuilding the franchise back up. Still, there are a few veteran names on the roster that come with some question marks. One of those is Cody Ceci, who is a restricted free agent once again after seeing his one-year $4.3MM deal expire.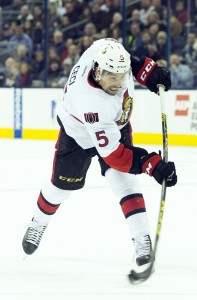 Ceci, 25, is the experienced one on the Ottawa blue line, with six NHL seasons under his belt already. He's coming off a 26-point performance while being used heavily in the defensive zone. A relatively young, experienced defenseman that is logging more than 22 minutes a night in all situations is usually one a team wants to lock up long term, but Ceci may not be in that situation. There has been criticism launched towards the defenseman for years, partly because his skills make him neither an offensive or defensive talent, but somewhere in the middle. He probably shouldn't be used as much as he has been in Ottawa, but they haven't had many other reliable options over the years.
Now, as free agency looms once again and the Senators prepare for an offseason of change, Ceci is in talks on a new contract. Both Wayne Scanlan of Sportsnet and Ken Warren of the Ottawa Citizen note that discussions are ongoing, but Warren also reports that Dorion is "seriously exploring the trade market." The league has watched several defensemen change teams in recent days, with Olli Maatta, Jacob Trouba, Matt Niskanen, Radko Gudas and Justin Braun all traded. Nikita Zaitsev and Rasmus Ristolainen have also been discussed and could be moved by the end of the summer. Will Ceci be another name to add to that list?
Scanlan writes that other teams have been calling Dorion because of their cap space and draft assets, and the Senators GM admits that they've spoken about moving up in the draft. The Senators currently have picks 19, 32 and 44, but with so much other draft capital available could potentially move up significantly. A Ceci deal would obviously not have to be involved in that, but it is still something to monitor over the coming days.
Photo courtesy of USA Today Sports Images