With the postseason down to just two teams, most squads are now well into their offseason planning.  What storylines lie ahead around the league in what is shaping up to be a likely busy NHL offseason?  Next up in our Offseason Keys series is a look at the Nashville Predators.
Despite a disappointing loss to Winnipeg in the postseason a year ago, optimism was high in Nashville.  They opted to keep the team from a season earlier largely intact and added some help around the trade deadline in Mikael Granlund, Wayne Simmonds, and Brian Boyle.  But instead of taking that next step forward in the playoffs, they took a step back and lost to Dallas in the opening round.  After not making many changes last summer, it's expected that GM David Poile will be looking to shake things up this offseason.  What will he need to accomplish?
Add Scoring Help
Scoring goals hasn't been a huge concern for Nashville in recent years but they did take a step back in that regard in 2018-19 as they slipped to 19th in the league during the regular season.  They struggled even more in the playoffs, averaging just two goals per game against the Stars which didn't leave them with much margin for error.
Ryan Johansen, their highest-paid forward, had just 14 goals.  Kyle Turris, who is tied for the second-highest cap hit among Nashville forwards, had an abysmal season that saw him score just seven times in 55 games and he was even scratched briefly.  That's not a lot of goal production for $14MM although to be fair, Johansen did at least lead them in assists.
Their late-season acquisitions didn't help much offensively either.  Granlund scored just once in 16 regular season games while Simmonds matched that output in 17 contests.  Boyle was a little better with five tallies in 26 outings but failed to record a single assist.
Beyond Filip Forsberg and Viktor Arvidsson, there aren't a lot of particularly dangerous scoring threats on the Predators.  If they're going to get back into contention in the Central Division, that's something that they will need to address this summer.
Josi Extension
Last summer, getting Ryan Ellis re-signed was Poile's top priority.  It took a little bit of time but a new deal was ultimately done as Ellis inked an eight-year, $50MM contract extension that was viewed as a bargain by many.  This offseason, Poile will once again be looking to lock up a blueliner to a long-term extension.  This time, it's Roman Josi that's in need of a new deal.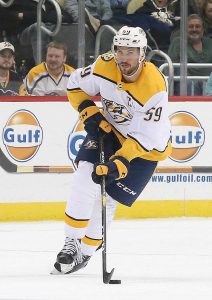 The 29-year-old has been the top offensive threat from Nashville's back end for several years now and has shown no signs of slowing down.  He has consistently logged heavy minutes, averaging over 25 minutes per game over the past six seasons.  Josi has been a top pairing defender for quite some time but he hasn't been close to being paid like one as his current contract which runs through 2019-20 carries just a $4MM AAV.
That's going to change on this next contract which could very well double his current cap hit, even if he takes the hometown discount as many expect.  We've seen the price of elite defenders jump considerably in recent years and it's Josi's time to cash in on that.  The Preds are eligible to get a new deal done on July 1st and given Poile's ability to re-sign his core players early, it's certainly reasonable to think that the two sides will reach an agreement fairly quickly.
Utilize Defensive Depth On The Trade Market
Defense has been the strength of Nashville for a long time.  Their group of defenders are not only strong in their own end but they have also been among the most productive units offensively for several years.  However, the time may now be right to break up their big four.
For starters, their back end is starting to get expensive.  Per CapFriendly, the cost of their blueline is set to exceed $26MM for next season.  Assuming Josi signs a new deal, that price tag could approach (or even exceed) $30MM a year later.  Spending that much on defense will make it difficult to fill their vacancies up front.
Of their top four, veteran P.K. Subban seems to be the speculative favorite to be dealt (with Ellis' new deal just beginning, Josi likely to sign a new contract, and Mattias Ekholm being on a team-friendly contract).  His $9MM AAV is pricey and would be the impetus for moving him but many teams are on the lookout for impact blueliners, especially those that play the right side.  It also helps that Dante Fabbro has top-four upside and while he may be hard-pressed to step into that role right away, he could take on a larger role than he had down the stretch and in the postseason.
Impact defensive depth is great to have and Nashville's back end is the envy of many teams in the league.  But at some point, teams have had success turning that depth into help up front.  Poile did it by turning Seth Jones into Johansen several years ago.  The time may be right for him to try a move like that again.
Photo courtesy of USA Today Sports Images.