When Erik Karlsson's postseason came to an end and he posted a thank you note on Twitter to the entire Bay Area, hockey fans immediately tried to determine what it meant in regards to his pending free agency. Was Karlsson saying goodbye to the San Jose Sharks after just one season? When rumors surfaced about the Tampa Bay Lightning, Ottawa Senators and Montreal Canadiens, it seemed like the star defenseman might be heading back to the Eastern Conference. Not if Sharks GM Doug Wilson has anything to say about it. Both Kevin Kurz of The Athletic (subscription required) and Elliotte Friedman of Sportsnet have reported in recent days that the Sharks are working hard to re-sign the right-handed defenseman, with a contract similar to Drew Doughty's eight-year, $88MM deal on the table.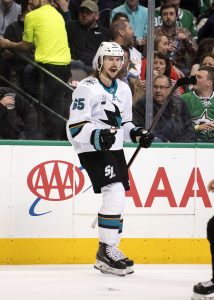 Friedman notes that the team will need a decision soon as they prepare for the rest of their summer, but Karlsson is now just a few days away from the free agent interview period. Even if he does want to hear out other teams however, a contract of that magnitude may be too hard to turn down. Karlsson's recent injury history may have reduced the number of teams willing to offer him such a lucrative contract, and San Jose is the only team that can give him that elusive eighth year.
Karlsson recently underwent groin surgery but is expected to recover fully by the start of the 2019-20 season, an announcement that was made by the Sharks earlier this month. San Jose will obviously have the best medical insight of any team, and if they are willing to hand over that kind of salary they must truly believe he can get back to full strength.
Even if he can get close to it, the team would have a game-changing talent on their hands. Though his injury history and dramatic fallout in Ottawa have clouded his career recently, it's important to remember just how dominant Karlsson has been throughout his career. A four-time Norris Trophy finalist—twice won—he has routinely cracked the 70-point mark and was on that kind of a pace in his shortened 2018-19 season. Even while playing injured during the postseason he recorded 16 points in 19 games for the Sharks, lifting his career playoff totals to 53 in 67 games. It's almost impossible to find that kind of offensive contribution from the blue line, but amazingly the Sharks already have Brent Burns capable of the same thing.
Still, a contract like that would have ramifications on the Sharks' lineup. It would mean committing somewhere around $26MM to three defensemen, two of which are already well into their thirties but still under contract for at least another six years. It would mean a huge part of the ~$25MM in cap space the team currently has would be eaten up, a number that also needs to accommodate new contracts for Kevin Labanc, Timo Meier and Joakim Ryan while also leaving room to re-sign Joe Thornton and Joe Pavelski if the team chooses.
If the Sharks aren't able to make a deal, it will be interesting to see what kind of market develops for Karlsson and whether or not it costs him in the long run to wait and listen. The free agent interview period will start on June 23rd.
Photo courtesy of USA Today Sports Images