The Anaheim Ducks have done what would have been unthinkable just a few years ago. Corey Perry has been bought out. Like Dion Phaneuf recently, Perry did not need to be placed on waivers first because of his no-movement clause. The 34-year old forward has two years remaining on his contract at an $8.625MM cap hit, meaning the buyout will cause the following cap hits for the next four years (via CapFriendly):
2019-20: $2.625MM
2020-21: $6.625MM
2021-22: $2.00MM
2022-23: $2.00MM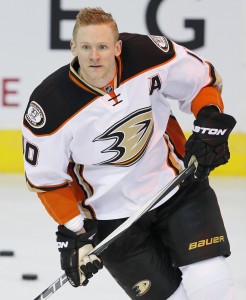 As discussed earlier this month, moving on from Perry may be more about the opportunity it will provide for the Ducks next wave of forwards. The deal will obviously save them some cap space next season, but because of the way his contract is structured—Perry was owed a $3MM signing bonus prior to the 2020-21 season—it will give them very little savings afterwards. In fact, the team is swallowing an additional two years of $2MM in order to get him off the roster, a big ask for a player who was once the franchise's brightest star.
Perry was selected 28th overall in the 2003 draft and developed into one of the most dynamic goal scorers in the entire NHL. He was a huge part of the Ducks' 2007 Stanley Cup run, scoring 15 points in 21 games. In 2010-11 he lit the lamp 50 times, leading to him taking home the Rocket Richard and Hart trophies at the end of the year. He cracked the 30-goal mark four more times after that, but hasn't been the same player in recent seasons.
In fact, Perry hasn't even scored 20 goals in a single season since 2015-16 and missed most of last year with injury. Ten points in 31 games was all he could muster, leading to this moment where he will depart the only franchise he has ever known. The Ducks will take the minutes and money allocated to Perry—Ryan Kesler and Patrick Eaves too—and give younger players like Max Jones, Troy Terry, Daniel Sprong, Kiefer Sherwood, Max Comtois and Sam Steel, the next group of core forwards in Anaheim.
The question now however becomes whether or not Perry can find work somewhere else. It's not often that a player with 372 career goals comes available, but there's absolutely no guarantee he can ever be that kind of player again. A one-year deal may make the most sense in order for Perry to prove he can still compete at the NHL level, but it's not clear yet who would be interested in giving it to him.
Photo courtesy of USA Today Sports Images