The Colorado Avalanche haven't received the level of goaltending they hoped for from Philipp Grubauer after they acquired him from the Washington Capitals last summer and signed him to a three-year contract. He was supposed to replace the outgoing Jonathan Bernier while allowing the team to let Semyon Varlamov walk into free agency without having to pay up for his services. Unfortunately Varlamov has vastly outplayed Grubauer, giving the Avalanche a tough decision on what to do in net this offseason. For what it's worth, Varlamov has now publicly announced that he hopes to stay in Colorado after speaking with Ryan S. Clark of The Athletic (subscription required):
I want to stay here because I love this team and hopefully I am going to stay and hopefully I'm going to re-sign my next contract with the Avalanche.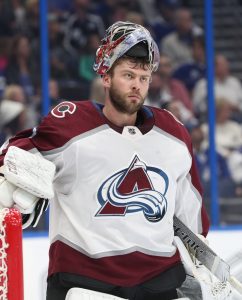 Varlamov, 30, has done everything necessary to complicate the decision. The veteran netminder has a .911 save percentage on the year, quite a bit higher than Grubauer's .896. Notably though, the team does have former KHL star Pavel Francouz playing well in the minor leagues. Francouz is also an unrestricted free agent at the end of the year, and retaining him would likely cost more than the $690K he is earning this year. Still that number would likely be much lower than whatever Varlamov is asking for, given his history as a starter in the NHL and $5.9MM cap hit this season.
The Avalanche have quite a bit to consider this offseason given the restricted free agent status of players like Mikko Rantanen, Alexander Kerfoot, J.T. Compher and Nikita Zadorov, but the decision in net is a make-or-break one for the 2019-20 year. That is easy to see after the team struggled through the middle portion of the season despite still having some of the most explosive offensive players in the league. Bad goaltending can sink a good team, and Grubauer's play this season has simply not been good enough for a team that considers themselves playoff contenders.
When we asked earlier this season if the Avalanche should trade Varlamov, the overwhelming response was that it was time to move on. The trade deadline came and went without much action though, and now Varlamov has them on the brink of a wild card playoff appearance.
Photo courtesy of USA Today Sports Images