College free agency is underway and some quality players have come off the board already.  However, there was some other notable news around the league as well which are noted in our top stories of the week.
Red Wings Active In College Free Agency: Detroit made a big splash in the NCAA free agent market, inking Taro Hirose to a two-year, entry-level deal.  The 22-year-old was the top college scorer this season with an impressive 50 points in 36 games and will get a chance to make an early impression on the Red Wings as he'll be up with the team for the rest of the season.  Hirose wasn't the only notable college addition Detroit made though as they also added Ryan Kuffner on a similar two-year ELC.  While his numbers dipped in his senior year, the 22-year-old still picked up 22 goals and 22 assists in just 31 games with Princeton this season.  He's also sticking around in Detroit for the stretch run.
Extension Talks Coming For Blashill: Still with Detroit, it appears that head coach Jeff Blashill is still in the plans despite a tough year in the standings.  Talks regarding a contract extension for the bench boss are expected to pick up in the coming days.  He's in the final season of a four-year contract and with his salary of $800K is believed to be among the lowest in the league.  The Red Wings haven't had a ton of success under Blashill with a record of 129-142-47 but some positive strides have been made in terms of player development and with their roster expected to be even younger next year, GM Ken Holland appears to believe that Blashill is the right fit to continue to lead them through their rebuild.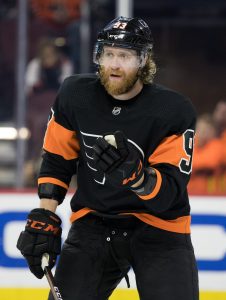 Voracek Files Suspension Appeal: A player appealing a suspension isn't entirely uncommon in the NHL.  However, appealing a two-game ban as Flyers winger Jakub Voracek did is much rarer.  Under the CBA, there is no option to go to an independent arbitrator for suspensions of five games or less which usually represents the threshold for potential appeals.  As a result, league commissioner Gary Bettman was tasked with deciding Voracek's fate.  He ultimately upheld the initial suspension levied by the Department of Player Safety but the fact Voracek went through the process is certainly interesting and it will be worth watching to see if anyone else decides to try to appeal a short suspension now that it has been tried.
Draft Lottery Odds Set: With the end of the season now just a few weeks away, the NHL officially set the odds for the end-of-season Draft Lottery.  They've decided to keep the odds the same as last year, meaning the team that finishes last will have an 18.5% chance of getting the top pick.  Currently, Ottawa is in the basement in the standings but that pick belongs to Colorado following the Matt Duchene trade last season.  The league also opted to revert to the traditional format of announcing the results in one pregame segment instead of during two separate intermissions as they did last year.  Teams (and fans) won't have to wait as long to find out where they're picking either as the lottery will be held on Tuesday, April 9th.
Zuccarello, Point To Wait To Talk Extension: A pair of notable free agents are opting to wait until the dust settles on the season before beginning contract talks.  Stars winger Mats Zuccarello is currently rehabbing his broken arm but GM Jim Nill indicated that they haven't started talks yet and want to wait until the season ends to discuss a deal.  It's worth noting that locking him up would result in Dallas ceding their 2020 first-round pick to the Rangers as part of the deal to acquire him at the deadline.  Meanwhile, Lightning star Brayden Point hasn't changed his tune on wanting to wait for the summer to discuss his next deal.  The RFA market figures to be fascinating to follow with so many prominent players in need of new contracts and it appears that Point wants to wait to see what some of the other pacts will be before putting pen to paper on his.
Photo courtesy of USA Today Sports Images.