With the trade deadline fast approaching, we continue our look at the situation for each team over the coming weeks.  Where do they stand, what do they need to do, and what assets do they have to fill those needs?  We turn our focus to the Eastern Conference with a look at the Tampa Bay Lightning.
While Tampa Bay's season got off to a surprising start with the resignation of GM Steve Yzerman before training camp, there haven't been many surprises since then.  They went into the season with the expectation of being one of the elite teams and they have done exactly that.  Now, new GM Julien BriseBois is tasked with making the final tweak or two to what should be a Stanley Cup-contending roster.
Record
40-11-4, first in the Atlantic Division
Deadline Status
Buyer
Deadline Cap Space
$7.953MM in a full-season cap hit, 0/3 used salary cap retention slots, 49/50 contracts per CapFriendly
Upcoming Draft Picks
2019: TB 1st*, TB 3rd, TB 4th, TB 6th, CHI 7th, TB 7th
2020: TB 1st, TB 2nd, TB 3rd, TB 4th, TB 5th, TB 6th, TB 7th
* – If Tampa Bay wins the Stanley Cup this season, the Rangers will receive Tampa Bay's 2019 first rounder while the Lightning will get back their 2019 second rounder.
Trade Chips
Sellers are going to be coveting some of Tampa Bay's younger NHL-ready assets.  Winger Mathieu Joseph is bound to draw a lot of attention as a rookie that has a shot at 20 goals this season but it will take a significant player coming the other way for them to part with him.  At the AHL level, 2017 top pick Cal Foote is having a nice rookie year at the professional level and will also draw a lot of interest.  However, given the state of their back end, it's plausible that Foote will be counted on to play a regular role next season with the Lightning so it would be tough to see him in play for a rental.  Second-year center Mitchell Stephens recently returned from injury and is someone that has bottom-six upside which would make him a little easier to part with.  Winger Danick Martel is likely expendable but given how little he has played this year, it's hard to imagine him having much of a market.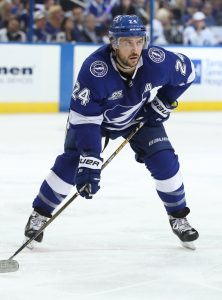 While Tampa Bay isn't going to be selling, one veteran that many expect to be in play is winger Ryan Callahan.  His $5.8MM cap hit is extremely pricey relative to what he brings to the table and with some big ticket deals on the horizon (more on that later), they would love to clear his deal off the books for next season.  The question is how much are they willing to pay to make that happen?  Do they part with a quality prospect or a high draft pick to serve as a sweetener?  Do they retain on the contract which would still be better longer-term than a possible buyout next summer?  They have more than enough salary cap space this season to carry Callahan – who has been a healthy scratch as of late – but how motivated will they be to clear his contract for next season?
Five Players To Watch For: F Ryan Callahan, D Dominik Masin, F Danick Martel, C Mitchell Stephens, F Alexander Volkov
Team Needs
1) Top Four Defenseman: Mikhail Sergachev has shown that he isn't quite ready to play regularly in the top four on the back end while veterans Braydon Coburn and Dan Girardi are better served in limited roles.  Adding a second pairing defenseman would allow Tampa to push their bottom guys into the proper roles while giving them some extra insurance should one of their top three blueliners get injured.
2) Free Up 2019-20 Cap Space: Tampa Bay currently has $73.1MM tied up in just 13 players for next season and need to re-sign or replace three defensemen as well as lock up center Brayden Point, one of the top pending restricted free agents around the league.  As things stand, there's no way they'll be able to do all of that and fill out the rest of their roster without shedding some salary for next season.  Finding a way to move Callahan's contract would certainly help while winger Alex Killorn could also eventually be on the move although given his role, that may be more of an offseason deal.  At either rate, financial flexibility moving forward will need to be at the top of their to-do list.
Photo courtesy of USA Today Sports Images.